We're underpaid and overworked, guards in Kenyan schools lament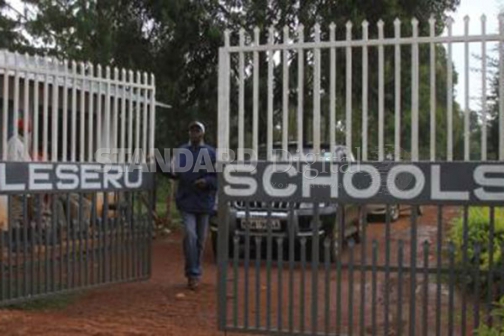 NAIROBI: Some of the school fires that have caused damage running to hundreds of millions of shillings may have been prevented had secondary school principals heeded former Education CS Jacob Kaimenyi's directive.
Prof Kaimenyi last year directed principals of all public schools to employ trained guards from registered security firms after it emerged many of the learning institutions, especially those in rural areas, employed untrained villagers to provide security.
It has also emerged that the Government has also not kept its promise of funding the schools to hire trained guards. Principals had complained about the high cost of hiring private security firms.
The poor state of security in schools was brought to bare during a stakeholders' meeting in Kisii where a police officer reported that a watchman ignored a report by a Form Two student that some of his classmates were planning to burn a dormitory. About 15 minutes later, one of the school's dormitories went up in flames.
The police officers who had investigated some of the school fires in Kisii said security in most schools in the region was lax.
A stakeholders' meeting in Nyanza was told that some watchmen could have been involved in planning the arson attacks and were now protecting the culprits. It also emerged that many of the watchmen guarding schools were too old to stop criminal activities.
But many watchmen, who are also stakeholders in the running of academies, called for schools to be better secured.
Most of the watchmen who spoke to The Standard on Sunday said they were not to blame for the school fires.
Samuel Ouma, a security guard at St Joseph's School in Kisumu County, which was burnt in March, said: "I'm not speaking for all school watchmen, but the truth is that guards are innocent. Some of the schools have porous fences and students sneak in and out of school as and when they please.
"I cannot be everywhere in the school all the time. The only solution is for the management to secure the schools."
A guard at Itierio High School, where unruly students broke the record by torching seven out of the 11 dormitories, said, "I was overwhelmed. There was little I could do because the students threatened to kill me. I called the teachers on duty who rushed to help, but the fire had already engulfed the dormitories."
At Atela Mixed Secondary School in Homa Bay County, a guard said he did not notice anything unusual until the students set the school alight.
"I did not sense anything was amiss. Even the teachers did not know the students were planning to commit a crime. It caught us unawares. I also did not see any students coming into the school with petrol," he said.
A security guard at Leseru High School in Uasin Gishu County, whose dormitory was torched on Wednesday night, dismissed claims that they are involved in the burning of schools.
Samuel Kirwa, 32, said he was still in shock.
Some guards have tried to understand why students have rebelled. Patrick Mukeya of Ikonyero Secondary School in Kakamega thinks its is because teachers have become too detached.
"It has become normal for teachers to come, teach and leave without spending time with students after class," said Mr Mukeya.
He conceded that some disgruntled guards who were poorly paid could have colluded with students to torch buildings.
Mr Thomas Ogada, a former security officer at a national school in Kisumu and who was sacked last year after he was accused of being lax, says school guards are overworked.
"You can find one watchman guarding a school with over 1,000 students." Mr Ouma has filed a case against the school for wrongful dismissal.
The Kenya Union of Domestic, Hotel, Education Institutions, Hospitals and Allied Workers (Kudheiha) now wants non-teaching staff involved in debates and investigations that seek to unearth the cause of the school infernos.
With the non-teaching staff being marked as suspects in the wave of fires, the union wants watchmen, cooks, messengers and grounds persons to be given a chance to air their views.
Kudheiha General Secretary Albert Njeru says poor pay and lack of motivation could be contributing to worker apathy.
St Patrick's High School, Iten, touted as an academic giant with impeccable discipline, is among the schools whose buildings have been torched. The school has been forced to hire more guards. Thomas Kiprono, the school head of security, said on the night of the fire, all was calm. However, that changed when students settled in for evening preps. That is when he saw smoke billowing from one of the dormitories.
"We have been forced to deploy some of the guards to man the dorms. We have also increased patrols in the school compound," Kiprono said, even as he called for more dialogue between students and teachers. Many watchmen admitted that the fire had caught them off guard because there was no indication of indiscipline among the students.
Other leaders also intervened and spoke to students in case there were grievances that could be exploited as the copycat fires spread. Elgeyo Marakwet County Commissioner Fredrick Ndambuki was among those who spoke to students.
"We spoke with the students and for sure we never expected the incident at the school. The learners were very calm all through," Ndambuki said. School principal Wilson Yego said they are still in shock because the students did not exhibit any signs of unruly behaviour.
Story by John Oywa, Erick Abuga, James Omoro, Fred Kibor, Ignatius Odanga and Lucas Ngasike