Stampede at Kenyatta University as Moi Varsity students riot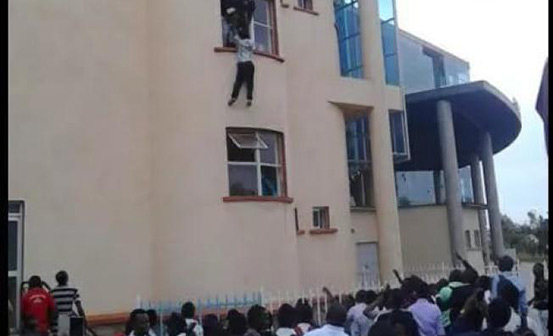 Thirty-eight Kenyatta University students were injured in a stampede following a scuffle.
Kiambu County Police Commander James Mugera said the students jumped out of the five-storey library, which has a capacity of about 13,000 students, following a commotion as two students fought over a laptop.
Police said one of the male students was stabbed during the scuffle. "The students who witnessed the fight screamed, scaring others who thought it was a terror attack. They scampered for safety with some jumping out from top floors," said Mugera.
The incident caused a scare at the institution, but the management and students' leaders calmed the situation. The university management, however, refused to comment. Guards at the university's main entrance said they were under strict instructions not to let the media in.
Elsewhere, Moi University students yesterday engaged police in running battles as they protested the death of their colleague. Confrontation began when the body of Anthony Mugambi was found in a pool of blood in one of the hostels in the morning.
Mugambi, who was pursuing a degree in Bachelor of Arts in Kiswahili, had spent the night at an entertainment joint in a nearby shopping centre and left with his friends late in the night, according to people who saw him last. Police arrested two students who were in the room.
Angry students carried the body from the institution to Kesses Police Station where riots broke out after police shot in the air to disperse them. In the ensuing confrontation, two students were injured and taken to Kesses Dispensary and later transferred to the Moi Teaching and Referral Hospital. One policeman was also injured.