Hard work pays, former President Daniel Moi tells students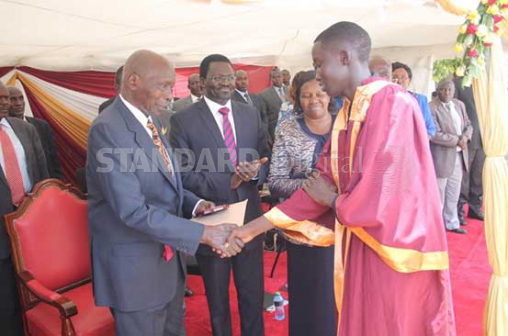 Former President Daniel arap Moi has expressed concern over the high number of irregularities reported in last year's Kenya Certificate of Secondary Education (KCSE) examinations.
He said he was saddened by the high number of young people whose results were cancelled for cheating.
"Last year, more than 5,000 students failed to get their results through cheating and other malpractices. I am deeply saddened that many young people are facing such a destiny at the most critical stage of their lives," he said.
In the 2015 KCSE, some 5,101 candidates were involved in examination malpractice, up from the 2,975 reported in 2014.
Speaking at the Moi High School–Kabarak prize giving ceremony yesterday, Moi urged students to work hard and avoid temptations to cheat.
"Do not allow those driven by greed to entice you to do things which will eventually bring your education to zero. I assure you there is glory in hard work and every hard work is always rewarded," he told the students.
Moi congratulated the school's 2015 candidates who emerged top nationally with a mean of 11.667. Of the 289 candidates, 202 scored A plain, 78 A-, 8 B+ and one B-.
"For the outgoing class, I am personally delighted that you leave here with something substantial that will shape your life for the better," he said.
The former President congratulated the teachers and support staff for playing a role in the school's exemplary performance.
Other guests at the ceremony were Baringo Senator Gideon Moi, Tiaty MP Asman Kamama, Taveta MP Naomi Shaban among dignitaries, parents and the school's alumni.
Moi High School-Kabarak Executive Director and Kabarak University Deputy Vice-chancellor Henry Kiplagat said the 2015 performance was the best in the school's 36-year history. "All the students qualified for university admission. This is a milestone for our school," he said.
Kiplagat further said five students on scholarship courtesy of the Kabarak Trust scored A while another one scored A- in last year's KCSE. He said 86 bright but needy students have received scholarship to study at the school since the programme was introduced in 2009.
The school principal Elishebah Cheruiyot said girls at the institution outperformed boys with a mean of 11.718 against 11.34 in last year's examinations.