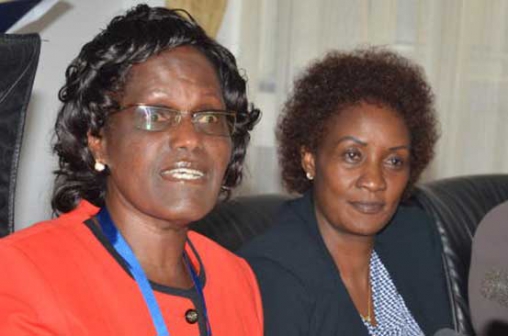 The Kenya Union of Post-Primary Education Teachers (Kuppet) in Kisumu have protested against the Teachers Service Commission's (TSC) move to withdraw their medical allowance.
The teachers led by branch chairman Zablon Awange, said they discovered from their online December salary slips that TSC has withdrawn Sh3,000 monthly medical allowance and forcefully registered them to the controversial Aon Minet insurance cover.
"We demand the commission reinstates the allowance and obey the court order that stopped the medical allowance reduction," Mr Awange said. He added: "Insurance should be optional and voluntary. When teachers are yearning for pay-rise, it is immoral to mutilate their pay."
The teachers have also opposed performance contracts and appraisal.
TSC chief executive officer Nancy Macharia last week said teachers must sign performance contracts and be appraised. She noted that the annual exercise will help TSC evaluate teachers, award promotions, conduct training and deployment, to enhance education standards.
However, the teachers have vowed not to sign the contracts terming it a ploy by TSC to dismiss them arbitrarily if they don't achieve set targets. They also want TSC to address corruption within its ranks and stop alleged intimidation.
"Unlike civil servants, teachers have tools like national examination mean grade, extra-curriculum activities like sports, drama, music, physical infrastructure and student population growth used to assess and promote teachers," Mr Awange said.
He accused TSC of diverting attention instead of tackling critical matters affecting teachers. "TSC has not explained why despite the scheme of service, teachers stagnate in one job group for over 10 years," he said.
He added: "TSC should be explaining to us why certain schools in municipalities missed out on house allowances, when it will clear the backlog in promotion, how it will deal with corruption within its ranks. Let TSC not enslave us with contracts yet that is the role of the quality assurance department they want to usurp."
Migori Kuppet chairman Kennedy Makasembo echoed Awange's sentiments, maintaining that teachers will not sign performance contracts.
"Teachers will reject the performance appraisals as they are an extension of bitterness that Government through TSC has brought on teachers. Government is being vindictive, has an ulterior motive meant to intimidate teachers," Mr Makasembo said.
But he said if the matter is explained to teachers, they will support it.
"The performance appraisal document is a very useful document in any sector only if introduced in a mutual and conducive environment. It has to be properly negotiated, otherwise it would turn out to be a cash cow for education officers at the grassroots. Government should stop fighting teachers through such pretense," he added.
John Wesonga, Mumias Kenya National Union of Teachers executive secretary and member of the union's national executive council claimed that the TSC bosses Lydia Nzomo and Nancy Macharia are unfit to hold office and should be replaced.
"Since the two came on board, they are only engaging in sideshows and destroying public education in the country. They should be sacked," Mr Wesonga said.
He demanded that the Government properly equips schools before rolling out performance contracts. "It is hard to assess a teacher who teaches 100 pupils under a tree and one that has 40 pupils in a good structure. The Government is violating human rights by practising unfair labour policies against teachers," he said.