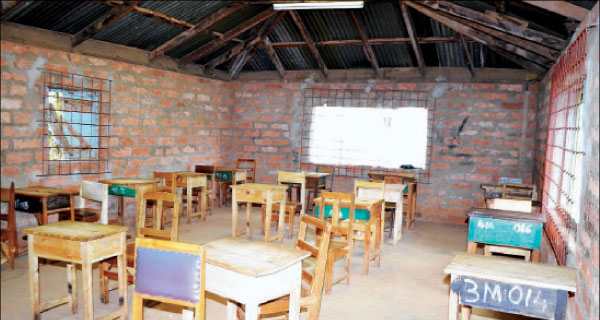 One of the buildings that were used to torture Mau Mau freedom fighters that has been converted into a classroom at Mweru High school in Nyeri County. [PHOTO: MOSE SAMMY/STANDARD]
By NDERITU GICHURE
Perched atop one of the motley picturesque hills in Nyeri County are a number of old brick houses with aging iron sheets. They are buried between towering trees and banana plants. This is a school —Mweru High School—which for years has been a beacon of hope to hundreds of teenagers. Those who have gone through the school still remember the good times they had there and are even nostalgic about the institution.
Ironically, the same place that now inspires hope to the young generation, has a pitch-dark history. In fact, some people, especially senior citizens who were involved the struggle for independence, dread to look in the direction of this hill.
Why? Because it was at this same place that they underwent untold suffering in the hands of heartless colonialists and their African hatchet men. This is where brave souls were crushed using the crudest weapons.
The school, located 11km from Mukurweini town, was a colonial concentration camp, complete with torture chambers and holding cells.
Memories of what transpired there are painful to survivors, who to date speak in hushed tones about their experiences. Mau Mau freedom fighters and their sympathisers were arrested and confined here, and many other concentration camps in the country by the Queen's government and later tortured in small chambers.
Real or imagined
Surviving Mau Mau freedom fighters from Mweru and the region at large still give this place a wide berth. They say that once they were arrested, they were tortured until they admitted committing the alleged crimes. It didn't matter whether the crimes the suspects were said to have committed were real or imagined.
Wambugu Kagunyu, one of the survivors, talks painfully and reluctantly about the torture chambers. The torture chambers, now three dilapidated brick buildings were fortified with barbed wire on the roof to prevent the suspects from escaping. They were devoid of ventilation or light and anyone who went there and came out alive had a very sad story to tell.
For Mr Wambugu and many other young men then, being captured and hauled into this camp was akin to a death sentence. Those who escaped death were torturted and rendered impotent.
Wambugu says he is lucky to be alive and well. Some of his friends succumbed to their torture injuries, while others became permanently incapacitated.
"Men would be subjected to the worst pain especially in their private parts. They were pinched using objects such as pliers," Wambugu reveals. Captain Collins Wanderi who hails from the area explains that many of the victims became impotent after their testicles were squeezed with pliers.
He says those suspected to be members of Mau Mau and who refused to confess to having taken the oath were brought to the camp and tortured by the British soldiers
"The camp also served as the last stage of vetting and cleansing for those who returned from other camps such as Manyani and Hola to ensure their co-operation with the dreaded group was nipped in the bud," Wanderi says.
Visitor's book
Retired President Daniel arap Moi is among those who have visited the former camp and the visitor's book still bears his signature
He visited the school twice and after consultations with the community, gave back the land after they requested for a school to be built.
Retired President Mwai Kibaki also visited the school alongside other senior government officials.
The school authorities say they have been shouldering the responsibility of preserving the monuments at the expense of normal school operations and are now threatening to pull them down.
The principal of the school Njaramba Mugo is appealing to the county government to help preserve the monuments for future generations.