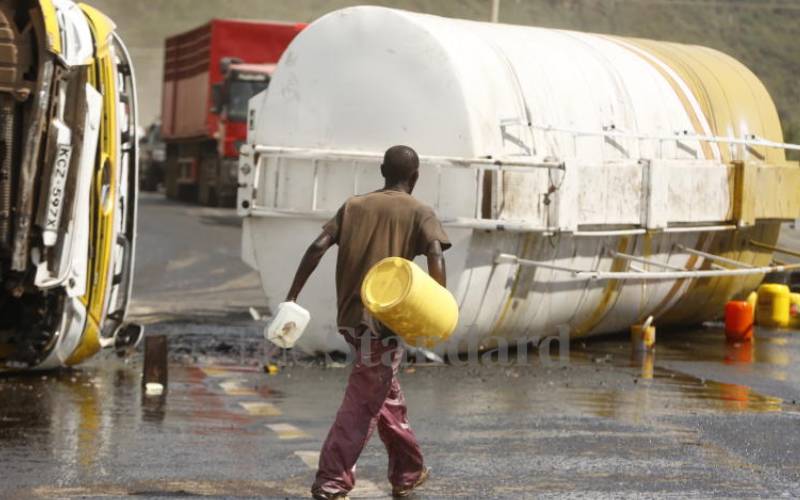 A boda boda operator was burnt to death on Saturday when two fuel tankers crashed into each other and exploded in Mukhonje market on the Webuye-Eldoret highway.
In August last year, a fuel tanker exploded at the same market after it crashed into a power transformer, igniting an inferno. Seven people died in the accident and two other vehicles were burnt.
Just last month, three trucks, six cars and houses were destroyed after a gas tanker and separate cylinders on its rear section exploded at Mutarakwa on the Nairobi-Limuru highway. In July last year, a fuel tanker exploded in Gem, Siaya County, killing 20 people.
These are just a few examples of the many accidents involving tankers and trucks transporting flammables on Kenyan roads. Everyone still remembers the Sachangwan tanker tragedy in which at least 111 people were killed and hundreds injured on the busy Nairobi-Eldoret highway 13 years ago.
These accidents should ignite a serious conversation on the safety standards in the transportation of fuel and other flammables.
The first question is, are there any standards in place so far? The answer is No. Transportation companies and fuel and gas must therefore work together and set these standards now instead of waiting for another tragedy to happen.
In setting these standards, the companies will not only avert accidents that normally result in multiple deaths, but also prevent huge losses they suffer every time there is a crash.
The government should also come in by developing regulations that govern this highly risky transportation business and ensuring they are adhered to.
The regulations should look into issues such as the design of tankers that make them safe carriers. For instance, the tankers can be made in two layers to prevent an explosion in case of an accident.