We must stop political chaos before it's too late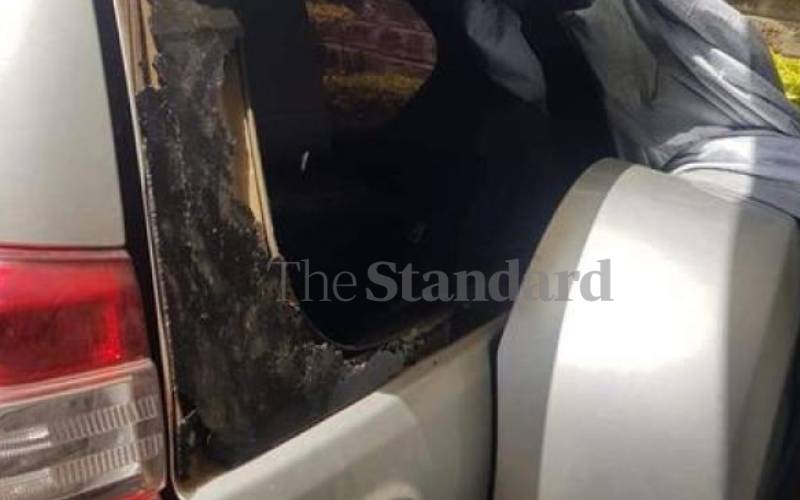 On Friday, Nominated MP Wilson Sossion's vehicle was stoned by rowdy youth in Bomet town. The former Kenya National Union of Teachers Secretary-General has expressed interest in the Bomet Senate seat in next year's elections.
On Saturday, Deputy President William Ruto's motorcade suffered a similar attack in Busia County, prompting Interior Cabinet Secretary Fred Matiang'i to order the arrest of all those who organised the chaos "no matter their positions".
Such occurrences in the run-up to General Election, in a country that is yet to recover from the effects of the 2007/08 election violence, must worry all of us. It all starts from such pockets of violence across the country and degenerates into full-blown skirmishes that we live to regret for years.
It is even more worrying that this is already happening yet official campaigns are yet to begin. Is this a sign that the campaigns for the 2022 polls, and the subsequent elections, are going to be chaotic?
We don't want to be prophets of doom but if this is not nipped in the bud, the country might as well be staring at a situation probably worse than 2007.
Political leaders and all other stakeholders, including the church, must therefore come out now to strongly condemn political intolerance and hate speech, even as security agencies work round the clock to apprehend those causing chaos.
It is commendable that leaders such as ANC boss Musalia Mudavadi, ODM leader Raila Odinga's wife Ida and some religious leaders are already speaking out against political intolerance.
All other leaders should take the cue and do the same. If no leader incites the public against anyone, then perhaps no one will have the courage to disrupt rallies of those they don't support.
The Media must also play its part, first by making sure they are not used to fan chaos and by condemning such acts of violence and intolerance.
In the 1994 Rwanda genocide, the Media played a big role in inciting one tribe against the other, leading a massacre that has never been witnessed anywhere else across the globe.
Kenyan media, and others across the world by extension, should therefore tread carefully in how they report cases of ethnic violence, politically instigated chaos, political intolerance and hate speech.
Every election cycle, there is always an appeal to the youth to not allow to be used by politicians to attack their perceived opponents. We can never tire from this call.
If a politician you do not support organises a rally, give it a wide berth and wait for your preferred politician to organise theirs. It is our responsibility to ensure we and our neighbours are safe from all manner of violence.
As CS Matiang'i aptly put it yesterday, "Everyone is free to sell their political agenda in the country and should not be disrupted. The law is clear that every Kenyan has a right to do business, invest or travel to any part of the country."
Above all, it is important to note that we don't have to agree on anything to be kind to one another.