Stop at nothing to end forced disappearances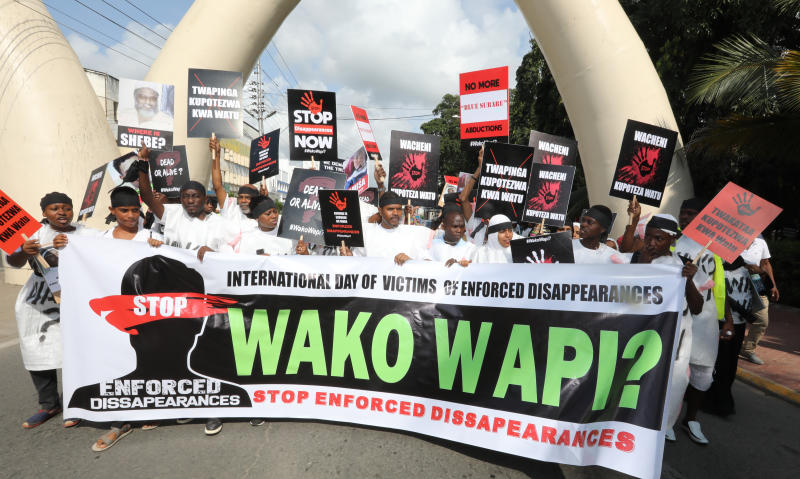 The International Day of the Victims of Enforced Disappearances was marked yesterday. In observing this day, focus normally goes to the excesses of police officers in the arrest and murder of individuals in unclear circumstances. Like other countries, especially on the African continent, Kenya is grappling with this problem that seems to have escalated in recent years.
Forced disappearances take on the form of abductions and extra-judicial killings. On many occasions, people have raised complaints against police officers or people in police uniform for arresting or abducting their relatives, never to be seen again. In some cases, those who fall victim are murdered and their bodies dumped in forests or even rivers.
There seems to be a pattern to extra-judicial killings. They primarily target young people suspected to be criminals, terrorists or their sympathisers. At the Coast, religious and social figures have become victims of forced disappearances.
Ideally, extra-judicial killing is the slaying of a person by law enforcement officers without authorisation through a formal legal process. UN Rapporteur Alfred Alston released a report in 2009 in which he accused the government of being aware of police extrajudicial killings, yet did nothing to stop the practice. Human rights groups have decried the disappearance and murder of more than 300 people since 2009.
As a signatory to the International Convention for the Protection of All Persons from Enforced Disappearance, Kenya should abide by its provisions and stop the spate of disappearances and extra-judicial killings.
There are laid down procedures for arresting or detaining a person who has run afoul with the law. Police officers who arrogate themselves the roles of judge, jury and executioner should be dealt with firmly. That is the only way to discourage this vice.
Let's start building ships
The setting up of a shipyard in Kisumu is a major milestone for the country. Kenya Shipyard Ltd was launched in June this year.