Human rights agencies call for better police-public relationship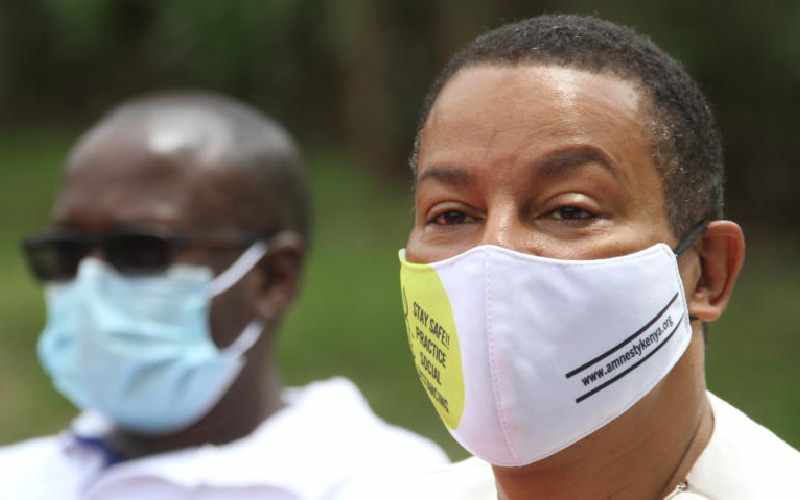 As the world marks the International Day of the Victims of Enforced Disappearances, human rights groups have called for a better relationship between the police and the public.
Speaking on KTN News today, Haki Africa's Hussein Khalid said the notion is that the residents are against the police, which is untrue.
He said the public hates crime as much as the police but detests how security agencies handle criminals.
"If a man commits a crime, let his family know why he is being arrested, and what the charges are," Khalid said.
He went on to add that families undergo psychological torture when their relatives are taken by the police and it is unclear why. In many cases, they do not come back.
His sentiments were echoed by Amnesty International Kenya Executive Director Irungu Houghton, who said there is a need for transparency in the security agents' operations.
However, he said not all disappearances are state-sponsored.
Irungu further criticised the police who arrest criminals on mere suspicion.
"Mere suspicion is not enough for someone to be tortured, whether they are suspected of financial-related crimes or even terrorism."
He called for adherence to the rule of law where suspects are presented in court where they are charged while being represented by a lawyer.
In 2021, according to Missing Voices, 13 disappearance cases were reported, with almost half of them being men aged between 18 and 35.
Irungu also criticised Kenya for not being accountable to the international community regarding enforced disappearances.
"Affected families need to be paid, especially in cases where the victims end up dead," the Amnesty International chief added.
Irungu added that one other loophole that abets disappearance and missing persons cases, is the morgues. He said mortuaries need to be facilitated to ensure bodies brought in undergo a postmortem within 72 hours to determine the cause of death.
Irungu said if prominent people can disappear, then Wanjiku is not safe.
Between March and May 2021, some 61 children were reported missing. Only 33 were found.
Between January and December 2020, some 242 children were reported missing. 125 were girls were boys numbered 117.
Out of these, 131 were reunited with their families. Sixteen were taken to child rescue centres. Eighteen are still missing.
Between 2016-2020, some 780 children have been reported missing. Some 496 of them have been reunited with their families while 73 were taken to child rescue centres. Twenty-one were found dead while 190 are still missing.
Irungu said the community has not made it safe for girls since they are the majority of those who go missing.
Haki Africa's Khalid said at the Coast, 26 missing person cases have been reported so far this year, with 18 cases recorded in 2020.
He called on the international community to intervene since, according to him, the government and the security agencies are not doing enough.
Khalid faulted the security agencies propagating enforced disappearances, adding that if the police themselves violate the law, then it would be hard for the public to approach them with tips.