Philip Ochieng: Man of letters is gone, but we shall keep his words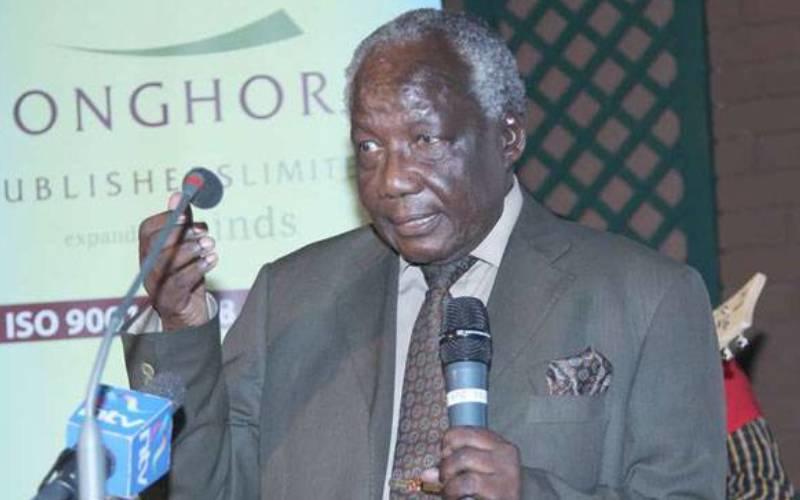 We depart from the usual sketch to offer a parody of Philip Ochieng, to whose memory this tribute is dedicated.
This tribute is not for mass circulation; it's primarily meant for the peers of Philip Ochieng, the doyen of Kenyan journalism who died this week at the age of 83. A pioneering scribe whose strident arguments in sprightly diction earned him a massive following, he was a complex, contumacious man whose appetite for life was only matched by his voracious search for knowledge.
He reportedly had "difficult years" at Alliance, but Ochieng did well enough to secure admission to Roosevelt University in Chicago, as part of the pioneering group of the student Airlift in 1959. But he left without a qualification and travelled to France instead, to study philosophy. This, too, was terminated midway and Ochieng flew back home on December 12, 1963 as the freedom bells chimed on the horizon.
He then commenced his long and tempestuous journey in journalism, first at the Daily Nation, before leaving in a literal cloud of smoke—he scorched the nose of a nosy female scribe, before leaving for Dar es Salaam.
There, he thrived, as revolution was in full ferment, meeting intellectuals and politicians who would shape the continent in the decades ahead. He soon returned to Nairobi, but his restlessness lingered, leaving or returning to the Nation stable through the 1980s, interspersed with stints in Italy and Uganda, before taking the reins at the defunct Kenya Times in 1988.
His dalliance with Kanu at a time of rapid social and political change complicated his libertarian views. Some felt he was caught on the wrong side of history, but most of his readers later modified their judgement, as he explained himself in his writing.
He was particularly drawn to etymology of words and their application, as readers of his popular column The Fifth Columnist in the Sunday Nation will attest. The moniker "Fifth Columnist" is traced to the Spanish general Emilio Mola Vidal, whose war exploits in late 1930s hailed the subversive elements in the civilian population as his "fifth column" that would wreck the loyalist government from within.
It was a fitting metaphor for a man whose restlessness against social strictures, and his own quest for happiness saw him depart from school, work or even family, in a heart-beat. In a word, he was a free spirit.
A slight-framed man with a halting speech, Ochieng was a man of sartorial elegance, resplendent in his three-piece suits and reading glasses dangling off his chest.
Our encounters in the newsroom, cheered on by his loud guffaws, lifting his cufflinks as he made his prurient prowls—he joked with female scribes that he was a harmless, old man— were a welcome relief to the staid newsroom. He rebuffed overtures from younger scribes to join them at the pub, saying he did not venture east of Tom Mboya Street!
He will be sorely missed.