Police should keep their guns and truncheons out of the journalists' path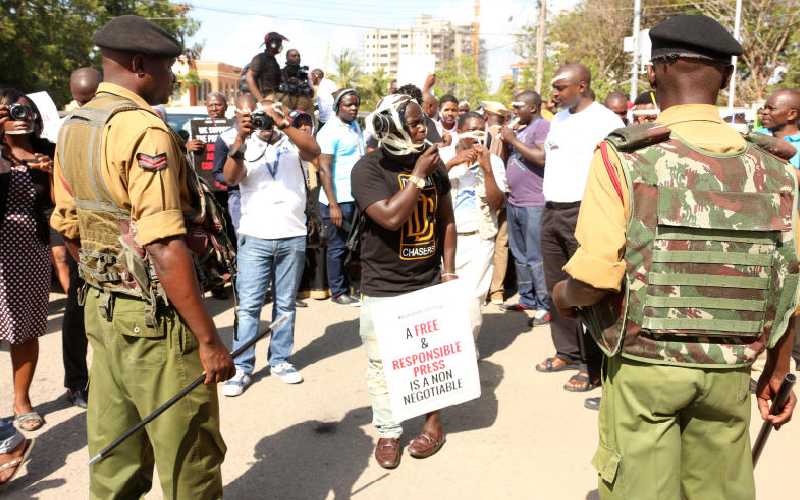 The brutalising of journalists by police officers in Embu County at the weekend is most reprehensible and must not go unpunished.
Ten journalists, two from the Standard Group, were beaten by police officers while covering the ongoing demolitions in Makima Ward, Mbeere South Sub County.
They were accosted by the officers while being addressed by area MP Geoffrey King'ang'i. The officers (if they deserve that honourable tag) are said to have kicked, bludgeoned and rained blows on the journalists before hurling them into their lorry. But the agony was not over for the journalists as inside the vehicle, they were forced to lie down and an unusual head count conducted.
"While we lay head down the officers made a headcount by stepping on our heads and bodies with their muddy boots. One [of them] would walk on top of us and on reaching the last person, he would claim he had miscounted and do a repeat. All this time other officers continued raining blows on us," a journalist revealed after they were released from custody hours later.
That kind of brutality and barbaric behaviour has no place in a country that has been independent for more than 50 years. Indeed such behaviour cannot be tolerated by any country that has modicum of respect for human rights.
Yet the attack is not shocking at all for even after years of trying to remodel itself into a people-friendly outfit, the police force continues to stink like as a skunk when it comes to human rights. Last year alone, human rights activists counted 107 police extra-judicially killings.
It is important it be established why the officers were so hostile to the journalists; acted alone or were under the instructions. Whichever the case, the officers and any other persons who complicit in the dastardly act must be punished severely. This is the time for police headquarters to show that it doesn't condone such primitive behaviour. We demand that the culprits be fired and be arraigned in court.
But there is something else we would want the police top brass to do. They should make it crystal clear to their subjects that journalists do not work at the pleasure of police officers or even the government. Journalists are independent. We work within the confines of the law to keep the public informed. And we fear no one while doing our duties.
That's why we don't hesitate to report any misconduct by the police or even high-ranking government officials. We ask the police to march in the lanes, and to keep off ours. Police brutality against journalists must come to en