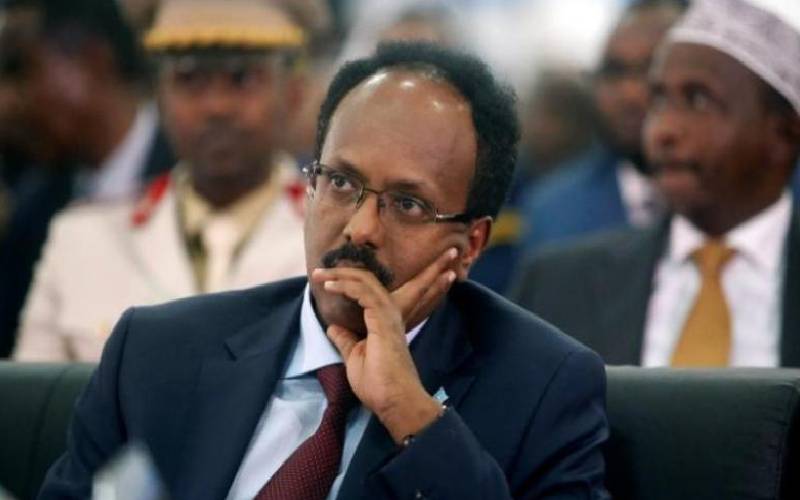 Tension runs high in Somalia's Bula Hawa region as government soldiers engage their Jubaland counterparts. The fighting, that first broke out in March 2020, has resulted in casualties and intensified diplomatic tension between the Federal Republic of Somalia and Kenya.
In spite of the critical role that Kenya has played in ensuring Somalia becomes politically stable, the Somalia government has accused Nairobi of taking sides with Jubaland in their internal dispute. Kenya has, however, denied the claim. However, despite the denial, Somalia President Mohamed Abdullahi aka Farmaajo went ahead and severed diplomatic ties with Kenya in December 2020.
Farmaajo (pictured) was elected president in February 2017, replacing Hassan Sheikh Mohamud and on him people placed the faith of restoring peace to the troubled Somalia after the turbulence that followed the ouster of President Siad Barre in 1991. Though Somalia experiences a semblance of peace today, political stability is yet to be achieved. The Al Shabaab and inter-clan fights have conspired to deny the troubled nation peace. Not even efforts of the 2017 Third London Conference on Somalia that sought to make the horn of Africa country a much better place have borne fruit.
The ongoing fighting in Somalia demands that Kenya stays on guard to ensure the fighting does not spill over to the Kenyan side of the Mandera border. Besides, intensified fighting could lead to a surge in the number of Somalis seeking asylum in Kenya where, incidentally, those wounded in the fighting receive medical attention at Mandera Referral Hospital.
Read More
The international community has a duty to help in returning Somalia to normalcy but, ultimately, it is up to the people of Somalia to heal their country.