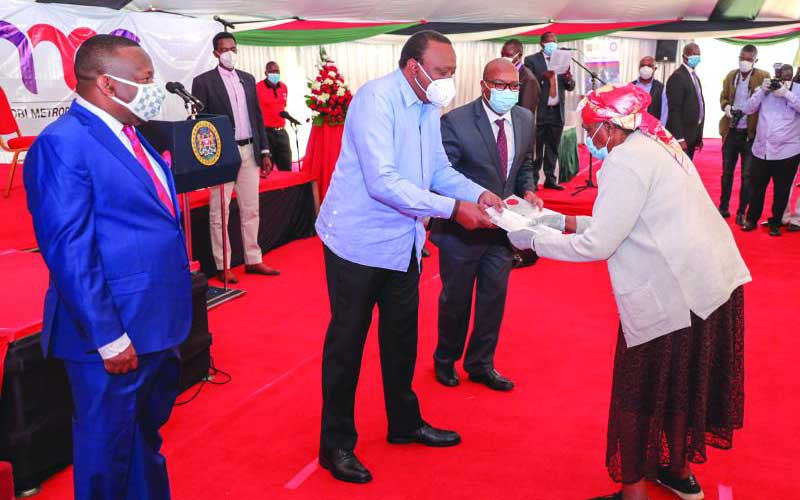 Joy was palpable as President Uhuru Kenyatta handed out hundreds of title deeds to Dandora, Mathare and Kariobangi landowners in Nairobi Wednesday. He is expected to issue out nearly 30,000 others to residents of Ruai next week.
That's a great deal for these people. If there is something that they will remember the president for, it is not the road that his government has built 'in the air' on Outering, it is the title deeds that now gives them inalienable right to their parcels of land. They will remember Uhuru for a long time because most have been taken in circles for years and have been milked dry by some mean officials of land buying companies. They can now breathe easy.
In fact, when Uhuru's legacy is finally written, a chapter should be dedicated to his determination to ensure landowners get title deeds.
On title deeds, his government has done what no other president has since independence. Under Uhuru, the Lands ministry has issued 4.5 million title deeds. That is no mean feat.
Read More
Why? Because, since independence to 2013 when Uhuru took the reins of power, only 5.6 million title deeds had been issued.
The importance of title deeds cannot be gainsaid. They help minimise land conflicts. That was the aim when the president directed that genuine owners of parcels in the trouble-ridden Kihiu Mwiri Farmers Company in Murang'a be issued with title deeds.
The title deeds also help to minimise cases of people being dispossessed of their property by land grabbers.
Our plea to the president is that he continues with this noble initiative so that many more Kenyans can be handed these important documents.