Nairobi estate demolitions came at the wrong time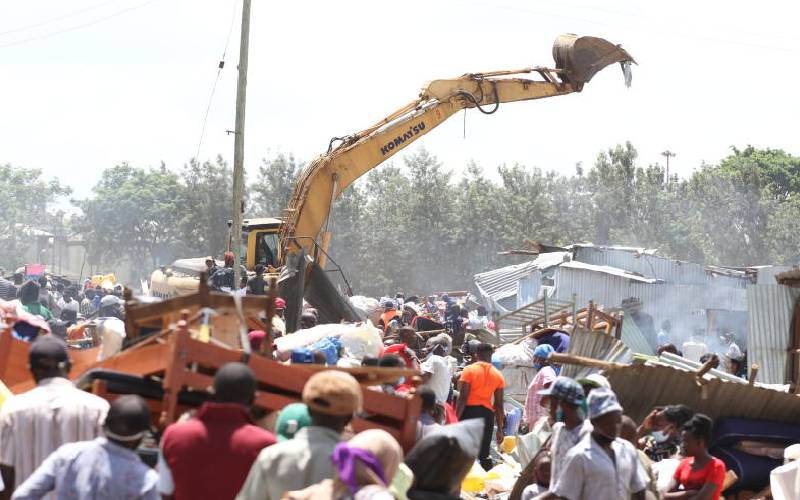 Residents of Kariobangi Sewage estate woke to the sound of bulldozers demolishing their houses on Monday.
This came two weeks after the reclamation of 1,600 acres in Ruai that the Government had set aside for the expansion of the Dandora Treatment Plant. The official position is that the Kariobangi land belongs to the Nairobi City Water Sewerage Company, but some residents disagree. Indeed, some have produced title deeds as proof of ownership. That only serves to amplify the rot at the Lands ministry and by extension, the National Lands Commission.
Though this newspaper supports the reclamation of public land, the Kariobangi demolitions raises ethical and moral issues. The demolitions were undertaken despite a court order to the contrary. The victims also claim they were given only 24 hours to vacate their premises.
It is immoral and inhuman to compound the suffering of citizens by rendering them homeless at a time the country is grappling with a deadly enemy. We know coronavirus has literally brought everything to a near standstill.
It is unacceptable to render over 5,000 families homeless in this rainy season, and at a time that Nairobi is under movement restrictions. That only serves to expose the families to Covid-19 when they huddle together for warmth and comfort. In itself, that defeats the social distance advocacy in the fight against coronavirus.
At a time that most people are vulnerable having lost their jobs, or dealing with reduced salaries or unpaid leave, exposing them to the elements only serves to depict government as uncaring. Besides, it is wrong for the Executive arm to disregard court orders.