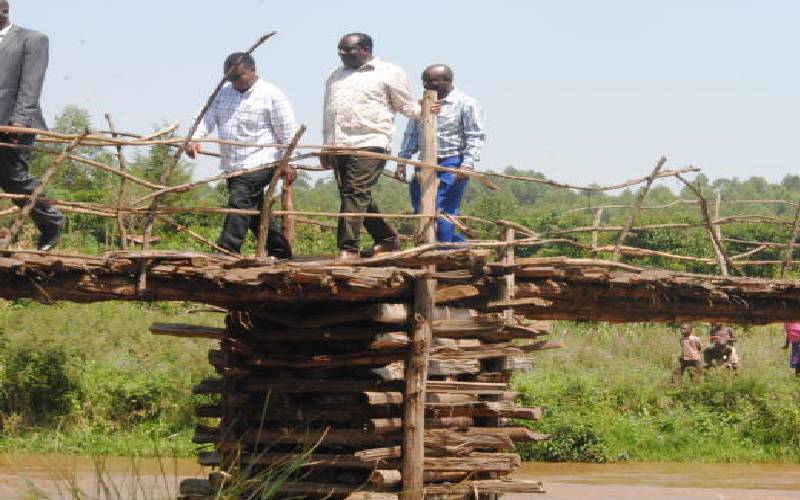 The Standard yesterday published a picture of Kakamega Governor Wycliffe Oparanya and his deputy Philip Kutima crossing River Yala via a makeshift bridge.
The bridge was built by residents of Etangale village in Khwisero Constituency several years ago after they grew tired of waiting for the Government to come to their aid.
To walk over the 50-metre Etangale Bridge, people, including children who use the bridge on their way to school and back, have to part with Sh10. The money goes toward the maintenance of the bridge.
Touched by the poor state of the structure, Mr Oparanya, who was on a mission to launch water projects in the area, promised to set aside money for construction of a better bridge. That was a good decision.
However, it is apparent that hadn't he visited the area, Etangale residents would have had to wait much longer to get a decent bridge. Across the country, county governments appear largely out of touch with the reality on the ground. They plan and implement grandiose projects-some which gobble up millions of shillings-without consulting their subjects, although the law requires them to do so. At the end of the day, some of these projects fail to gain traction with the public. Others, of course, turn into white elephants.
Read More
If they bother to ask the public, county authorities would be shocked by what people really want. Some may want a toilet in the marketplace, a cattle dip, feeder roads, market shades, and so forth; projects that can't dent the pocket. To identify people's priority projects, county bosses must learn to listen to their subjects more keenly.