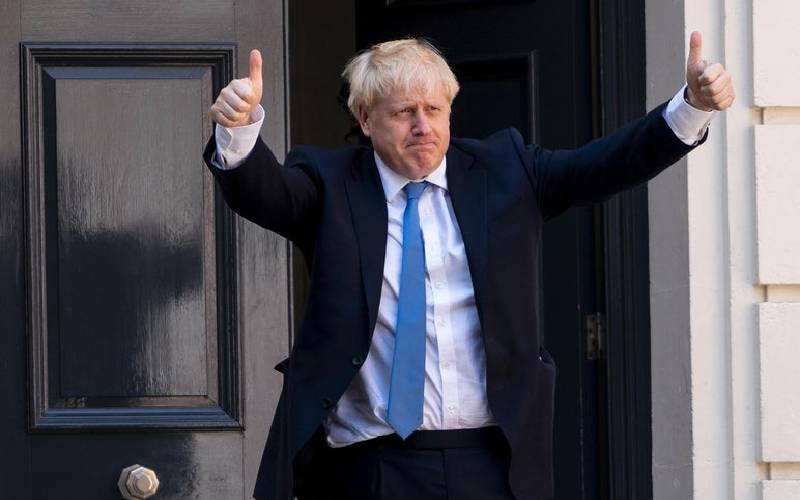 After his election yesterday, Boris Johnson will become UK prime minister beginning today. Unsurprisingly, immediately he was elected, an ecstatic US President Donald Trump tweeted his congratulations to the former London mayor, saying: "He will be great!" Trump, who fell out with Theresa May after UK's envoy in Washington described his administration as "uniquely dysfunctional" and "inept", has found it hard to hide his admiration for Johnson.
Recently, the US President tweeted: "I think we're going to have a great relationship (with Johnson)" and "he's been very, very nice to me, very supportive". There is little doubt they will have a great relationship. Trump and Boris are birds of a feather. First, both don't harbour much love for immigrants and are determined to ensure their numbers are minimal.
While Trump has been shipping illegal immigrants back home and fine-tuning his plan to build a wall along the Mexican border, his buddy across the Atlantic is determined to take control of UK's borders by leaving the EU, which allows trading among the bloc's 28 member states. He also wants to ensure unskilled workers don't set foot in UK.
Second, it's hard for the two populist leaders to hide their racist sides. The other day, the Guardian unearthed an essay in which Boris had argued that Islam had caused the Muslim world to be "literally centuries behind". Trump's xenophobic attacks are an open secret. His latest volley was directed at four female Congress members, including Ilhan Omar who was born in Somalia.
Besides, both are also known for telling lies without blushing. However, they want to make their countries great again. With such leaders at the helm of two great nations, we can only sit back, watch and pray that they will leave the world better—not worse.