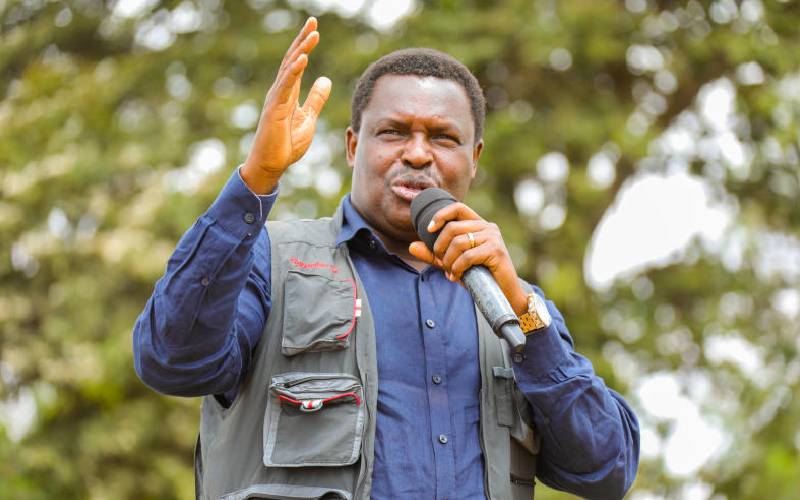 Tharaka Nithi Governor Muthomi Njuki is facing stiff competition from four rivals who seem to be leaving nothing to chance.
The competitors are Deputy Governor Francis Kagwima (Wiper), former Chuka University VC Erastus Njoka (Jubilee), former National Museum of Kenya Director General Mzalendo Kibunjia (Narc-Kenya) and former Machakos Assembly Clerk Felix Gitari of Chama Cha Kazi.
Njuki and Njoka are widely seen to be the front runners. The two leaders hail from Chuka/Igambang'ombe constituency.
While it can be argued that Njuki could be better placed due to the benefit of incumbency and the fact that he is in Deputy President William Ruto's United Democratic Alliance (UDA) which has a larger following in the area, he is also pulled back by the baggage of his office.
Njoka, on the other hand, is seeking his first term as governor after a stellar performance as the founding principal and vice-chancellor of Chuka University which is now the biggest university in Eastern in terms of the student population, campuses and infrastructure.
Njuki who fell out with his deputy has this time around picked immediate former Mitheru MCA Charles Nyaga as his running mate.
Gitari named Samwel Gaichura from Tharaka as his running mate while Kibunjia and Kagwima chose Micheni Ruriani from Maara and Jones Munene, also from Maara, respectively.
Prof Njoka and others have been quick to plead with locals not to vote for a leader because of party affiliation but on the basis of capacity to deliver and meet the development aspirations of the county.
In a bid to lock Maara constituency, Njuki is banking on the support of UDA leaders including Chuka/Igambang'ombe MP Patrick Munene and Maara MP Kareke Mbiuki.
And to further endear himself to the people, he picked former Mitheru MCA as his running mate hoping to attract voters in the newly created Muthambi Sub County, part of the Maara constituency where he enjoys Mbiuki's backing.
Njoka picked former Meru National Polytechnic Principal Geoffrey Rukunja from Tharaka as his running mate.
Njuki is taking credit for various infrastructural projects, including carbro-paving in Chogoria and other areas as he eyes a second term. He has listed projects in health and agriculture as he makes a case for his re-election bid.
These include the Sh250 million Chuka County Referral Out-patient Complex funded by his administration and opened by Ruto on March 12.
He has also done tarmacking of the road from Chuka to Kiereni which connects to lower areas such as Cheera as well as others in Chogoria and Kibugua towns.
Stating his case for re-election, Njuki said his administration had improved agriculture. He says he now wants to start a milk processor.
"We have enough milk for a local milk plant. I also want to further upgrade the Chuka hospital and other smaller health facilities. I want to do more tarmac roads and water projects and provide funding for youth groups," Njuki said.
Beneficiaries of his youth empowerment programme included boda boda operators, locals engaged in running greenhouses, and beauty and hair stylists who got salon equipment.
He said he wants another five years to do phase two of carbro-paving in Chogoria and to construct a new market. "We have agreed there is land to construct the market," he said.
He also wants to complete Kairuni stadium to host big sporting events. "We want to tarmac roads around Chogoria," said Njuki.
Prof Njoka, however, accuses Njuki of not properly utilising funds from National Treasury.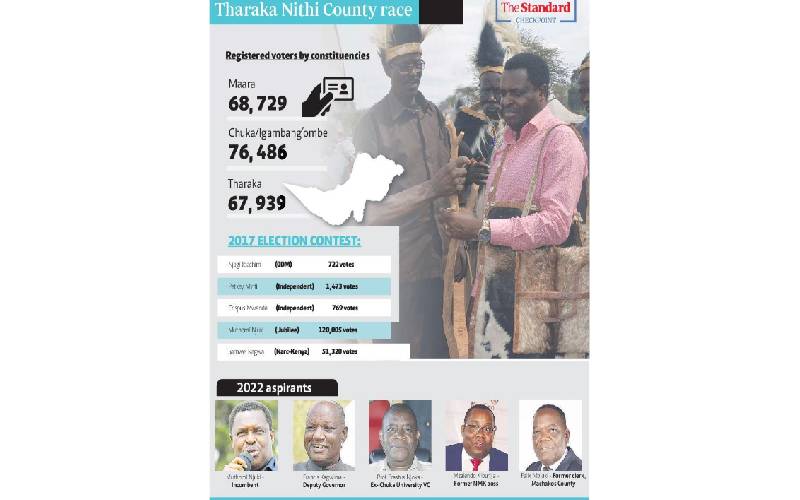 Major hub
The former Dean of Agriculture at Egerton University promises to turn around the fortunes of the county. He takes pride in the massive construction and good management that has transformed Chuka University into a major education hub in the region.
Njoka also established new campuses at Tharaka, Maara and Igembe in Meru. He says he plans to set up industries such as milk processors to empower households.
"We do not have a single industry in the county. We are like a consumer county whereby we get things from other places. People are poor. I would like to have milk plans and other industries that can process oil from sunflower, macadamia and fruits. As VC, I gave out 10,000 macadamia seedlings and people will start harvesting and making the oil of high quality," Njoka said. "There is no water and health services are poor. Nothing seems to be moving. Bursaries are not being provided and infrastructure is not up to date. I do not know where they have taken our billions,"Njoka says.
Healthcare
Kibunjia said healthcare was a priority. He says local health facilities should have adequate drugs. "I am not going to build new ones because we already have enough. I will make sure they have what they require to function properly," he said.
He says he will ensure speedy economic recovery following the Covid-19 pandemic through strategic support programmes for struggling businesses. "We are a major agricultural county but farmers are struggling. They are given seeds but agriculture is not just about that. I will have extension officers based in every ward and set minimum prices for produce," he said.
Kibunjia said it was a shame that farmers sold their yields at throwaway prices due to lack of agro-processing factories.
"It is embarrassing that dairy farmers in Tharaka Nithi sell to a processor in Meru County yet we can build a factory here at home to achieve value addition and more income for our farmers," he said.
Kibunjia said farmers need better support systems because they produce food and offer employment opportunities. To empower the group, he said, he will hire an agricultural extension officer for every ward to bring services closer to them.
"I want to empower the farmers by offering them subsidized inputs, free extension services and providing them with reliable markets. The idea is to encourage them to increase productivity and earn more from their toil," Kibunjia said.
"I will build light industries to promote value addition," Mbiuki said. Gitari said he will ensure resources are used prudently and residents have water and can engage in sustainable production.
He added he will seek unity among elected leaders from the three sub-tribes to ensure they speak in one voice in developing the county.
Kagwima, who fell out with his boss, says he wants to improve governance and ensure it is the people who identify their priorities through public participation.
"We are going to industrialise the county. You cannot accommodate everybody in terms of employment so I will put up a number of industries for processing local products - grains, cereals and the mineral deposits," he said.
Kagwima, a former Tharaka MP, said he will ensure the provision of water for irrigation besides intensifying marketing for agricultural produce.
"Our economy is dependent on agriculture so we will make sure the sector is supported by the marketing of produce including bananas, maize others like green grams," he said.
Kagwima said he will put in place measures to ensure public funds are safe. He says he will give the county executives a free hand in managing their dockets.