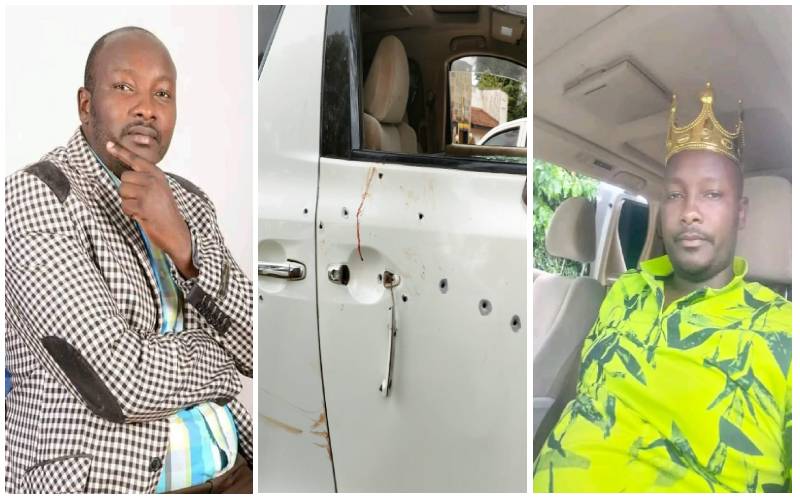 Dennis Mbae ran a network of legal and illegal ventures in Embu and the neighbouring Kirinyaga.
His name was only spoken in whispers when he lived and although one of his known legal businesses was Casablanca Club in Dallas Estate, Embu, few people understood the intricate underground operation he ran as law enforcers looked away.
Mr Mbae woke up early as usual on Wednesday and spent most of his morning minding the pig farm he ran at Dallas. He spent considerable time supervising his farmhand to shovel manure and wash the pigs. He also paid their wages.
Mr Mbae also ran a dairy farm nearby. Most of the livestock was believed to have been stolen through his thriving illegal ventures extending deep into Embu and Kirinyaga counties.
Driving his Toyota Alphard, it appears he passed through the dairy farm to inspect his stock, some probably stolen only days ago. The dairy farm in Dallas produced at least 200 litres of milk a day, according to the workers.
At 1pm, Mr Mbae passed through a food kiosk he ran on the other side of Dallas, looked at the books, picked some collections, and left for his operational base - Club Casablanca.
His workers say the primary school dropout strictly monitored his business and examined the books with a keen eye to ensure no one stole from him. Accounts from close associates say he stayed at the club until around 10pm when he left in his car heading home.
Embu West sub-county police commander Julius Kyumbure said initial investigations indicate the man was trailed by an unidentified vehicle before he was ambushed by gunmen who shot him at close range.
"Good Samaritans informed the police and rushed him to the Embu Level Five Hospital where he died while receiving treatment," Mr Kyumbure said, adding that investigations point to elimination by a highly specialised criminal gang. Detectives in the probe said a high calibre rifle with extra precision was used.
Many Dallas residents heard the gunshots but few knew their neighbour who had terrorised them for years had finally been eliminated.
The news would soon catch up with them and videos would surface of droves of Embu residents visiting the mortuary to confirm that the feared man was indeed dead.
Some of the videos showed crowds ululating outside the mortuary and dancing in celebration.
Mr Mbae was ruthless with people he perceived as obstacles in his operations. Sources say he operated a network of criminal activities that included drug trafficking, illicit brewing in Majengo slums, livestock theft, house and shop break-ins and burglary, robberies, and car theft.
His other businesses included a liquor outlet, a car wash, and a vehicle spare parts shop. He also practised tomato farming in Kirinyaga on a farm where he also kept more than 100 cattle of mixed breeds.
A 30-year-old man who worked for him recounted the hours before Mr Mbae's death.
The Tharaka Nithi resident said Mr Mbae paid for his school fees and promised to help him get a job in the disciplined forces as he had done for many others. He said Mbuyu (slang for father), as they used to call him, left his Dallas house at around 9am and headed to the pig farm.
"He spent the most part of his morning paying workers and suppliers. He was stressed most of Wednesday because a private number kept calling him and the person on the other side did not speak. It's like he knew he was a marked man."
Paid Sh100,000
The man went on. "He paid me some Sh10,000 he owed me, saying he didn't want to die with debts. The private number called again and a woman on the other end threatened him."
They parted ways at around 10pm when he headed home. "We were still at Casablanca when a rider rushed in saying Mbuyu had been shot."
With other friends, the assistant helped rush him to the hospital but he died as they tried to look for a vehicle to transfer him.
Another close associate of Mr Mbae who knew him since 2014 when he was hired at his car wash said the man was once in the muguka business. He stopped, saying it didn't pay him well.
The 27-year-old confirmed that Mr Mbae had been involved in crime but had reformed and wanted to reconcile with those he wronged.
"I remember robbers once stole Sh3 million after breaking into his house in 2020 but he said he didn't feel wronged and that it was payback for all he had done in the past. He warned us that any wrong thing you do will haunt you one time."
The associate said Mr Mbae almost became religious and regretted his past, wishing he would pay for his sins to ensure his children didn't have to upon his death.
Mr Mbae, he said, started reforming after the gunning down of his accomplices identified as Blaque and Mugermany. He even started attending church.
A few metres from where Mr Mbae's car was sprayed with bullets, a witness recounted how he heard several gunshots around 10pm.
"I looked through the window, saw a lot of dust, and noticed a car in a ditch. A few metres away another car was reversing and sped off," said the man identified only as Karis.
He said together with other neighbours they broke the windows of Mr Mbae's car and a woman emerged from the back seat crying.
"We identified Mr Mbae who was in pain and was straining to speak."
His close associates said Mr Mbae had employed more than 100 youth who were earning from his business and that he had helped them acquire motorcycles to earn a living.
That way he also ensured he had many hands to run his errands.
Mr Mbae served a five-year sentence at the Embu GK Prison and was released after an appeal before he secured orders to stop his arrest.
His close allies say he had many wives, some claim they numbered 20. Sometime last year, he had about 15 children under the care of two house helps in his house. Mr Mbae had pending cases in court over drug trafficking, robbery with violence, and murder. On May 5, 2014, he was implicated in the murder of a businessman at Shauri Estate in Embu town.
In 2018, he was charged with trafficking bhang with a street value of Sh260,000. He denied the charges and was released on Sh300,000 bail.
In 2017, he sought the Maendeleo Chap Chap ticket for Kirimari ward but lost the nomination. Mr Mbae, in his early 40s, was born in Embu and went to County Primary School. John Nyaga, one of his schoolmates, said he never went beyond upper primary and his first venture was a chang'aa business within Majengo slums.
Resident Macharia Mohamed said he lost electronics severally and that they usually were traced at Mr Mbae's warehouse.
"Those who knew him would walk to the warehouse and ask them to search for their property. I remember he told me to pick up my goods and to ensure in future I properly locked my house. This happened with lost livestock too," Mr Mohamed said.
Other victims accused the man said to have lived a life of secrecy of dealing ruthlessly with rivals.
Mr Mbae's younger brother Albert Micheni is however in mourning. "My brother may have committed crimes but he needed to be arrested and prosecuted. I believe the police eliminated him," he said.