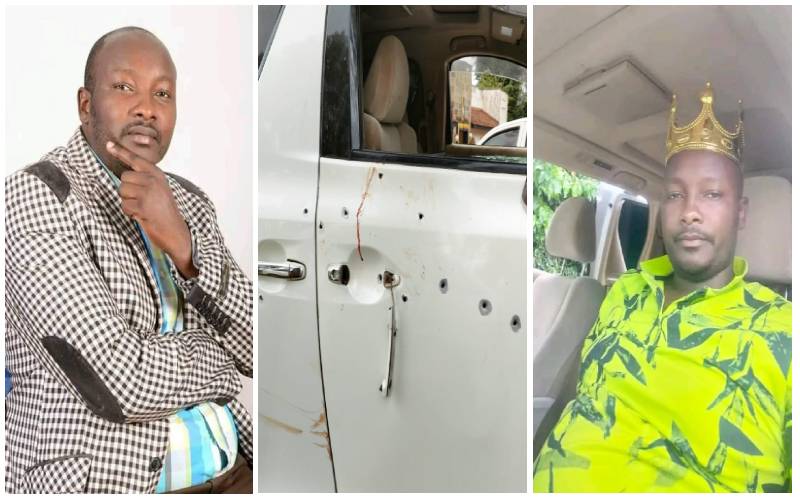 Dennis Mbae was living the life in Embu as some of his neighbours accused him of ruining their lives.
To some, Mbae was a criminal, to others, he was a reformed serial offender who was committed to mending his ways.
A farmer, a restaurant owner, a carwash owner, a polygamist, a fast-moving consumer goods dealer, a suspected drug baron… were some of the descriptions of Mbae that several interviewees gave.
On Monday, June 6, Mbae was shot dead by an unknown gunman at Bonanza Estate in Embu Town.
His vehicle, a Toyota van, was sprayed with more than ten bullets, leaving Mbae badly injured. He was taken to the Embu Level 5 Hospital, where he died during treatment.
At that juncture, a controversial four-decade life ended in the most brutal manner.
The deceased, who was in his early 40s, was raised in Embu County, though a native of Tharaka Nithi County. He attended a public primary school in Embu, but dropped out midway.
John Nyaga, who was Mbae's schoolmate at Embu County Primary School, described the deceased as a soft-spoken person, who rarely picked fights with people.
"He was calm and cool-headed," said Nyaga.
A Directorate of Criminal Investigations (DCI) officer, who spoke to The Standard in confidence, said Mbae did not make it past Standard Six.
"He dropped out after losing both parents while in Standard Six," he said.
Another of Mbae's classmates said he "disappeared, never to be heard of again".
"Much later, well into adulthood, I learnt that Mbae had ventured into business, and that he was also into the illegal chang'aa brewing business. He allegedly operated the drinking den at Majengo slums in Embu Town," said the informant, who sought anonymity.
"Mbae was mysterious, secretive and calculating," he added.
One of Mbae's drivers, who spent most of his time working for the now-deceased, said Mbae educated him from primary to secondary level, and thereafter enrolled him into a driving school.
Both were born and partially raised in Chera Village in Chuka, Tharaka Nithi County.
"After completing my driving lessons, he promised to help me get a job within the police service. At the time, there were reports that he'd helped at least 30 boys get recruitment into the police service," said the 30-year-old informant, who asked not to be identified.
As Mbae's driver, his day at work would start at 9am.
"On Monday, he asked me to meet him at his pig farm, located a few metres from his house in Dallas Estate. For a better part of the morning, he interacted with his 30 workers at the pig farm, offsetting their dues and paying suppliers their money," said the 30-year-old driver.
"Later in the afternoon, he left for his restaurant known as Casablanca. That's where he spent the remainder of his day."
The driver said Mbae appeared disturbed. "There was a private number that kept calling him, and every time he received the call, the caller would hang up after a tense moment of silence."
"At around 10pm, he asked me to go home. Several minutes later, I was shocked to be informed by boda boda operators that Mbae had been shot in his vehicle."
The driver said he rushed to the scene, and found Mbae's bullet-riddled vehicle in a ditch at Bonanza Estate.
"We took him to the Embu Level 5 Hospital, but he died before he could receive proper treatment."
Another person who knows Mbae well, but also spoke in confidence, said they met in 2014.
"Mbae hired me as a driver to transport muguka to Nairobi. A few months later, I was involved in a road accident at Nairutia area in Nyeri County. Shortly thereafter, Mbae closed the muguka business, saying it was not profitable."
According to the informant, 27, Mbae "engaged in crime in the past, but had since reformed".
"Sometime 2020, robbers stole Sh3 million from his house. He told me it didn't bother him because he was paying for his past sins."
According to the source, Mbae embarked on a transformation journey after two of his close associates, identified as Blackie and Mugermany, were gunned down by police.
"Mbae even started going to church. Every Sunday, he'd go to the Anglican Church of Kenya (ACK) in Dallas, Embu."
The informant said Mbae appeared to have a premonition of his death.
"On June 6, he paid me some Sh10,000 that he owed me. While giving me the money, he said he wouldn't wish to die without offsetting his debts. Earlier, an unknown woman had called and threatened to harm him to prove she was more of a 'gangster' than him."
The source further said: "Mbae helped me to get out of poverty. I now own a parcel of land and a motorbike."
He listed some of Mbae's businesses, including a hotel, bar, carwash, dairy and tomato farming ventures.
"He sold 200 litres of milk daily and reared more than 100 head of cattle."
A witness, who was among the first responders to the shooting scene, said Mbae was with a woman in the car on the day he was fatally shot.
"After the gunshot sounds faded, we rushed to the scene. A blood-stained and badly wounded Mbae was on the driver's seat. A youthful woman came out of the rear seats while crying. Due to the moment's shock and confusion, we rushed Mbae to the hospital and lost focus on the woman," said the witness identified only as Karis.
To some, Mbae was the local youth saviour, claiming he helped at least 100 young men from Embu Town get into the boda boda business.
To others however, Mbae was a dubious dealer, who earned from cattle rustling, drug trafficking, theft and robberies.
A DCI officer, who spoke to The Standard in confidence, said: "He sold bhang and dealt in illegal gun trade. He lived in a Sh10 million house, had several women as spouses and was well connected within the police service. Every time there was a change of guard at the Embu County police leadership, he'd attend the hand-over ceremonies. That's how well-connected he was."
Crime records show that he previously served a five-year jail sentence at the Embu GK Prison, and was out after filing an appeal.
He'd also been arraigned on suspicion of drug trafficking, robbery with violence and murder.
On May 5, 2014, he was accused of the murder of a businessman at the Shauri Estate in Embu. In 2018, he was arraigned on bhang-trafficking charges, allegations he denied, and was released on Sh300,000 cash bail.
Though the number of spouses he had remains unclear, several people who spoke to The Standard said he had at least 15 women and more than 30 children.
A raid in his house in 2021, revealed that he had 15 children living with him. The children were being taken care of by his two nannies.
"Mbae had a principle that if he has children with you and you happen to fall out, he'll ask you to go but leave the children in his care," a source who knew Mbae's family happenings said.
The deceased unsuccessfully tried his hand at politics in 2017. He attempted to run for Kirimari Ward MCA seat on Maendeleo Chap Chap Party, but lost to Morris Muchiri in the party primaries.