Tributes pour in for crash victims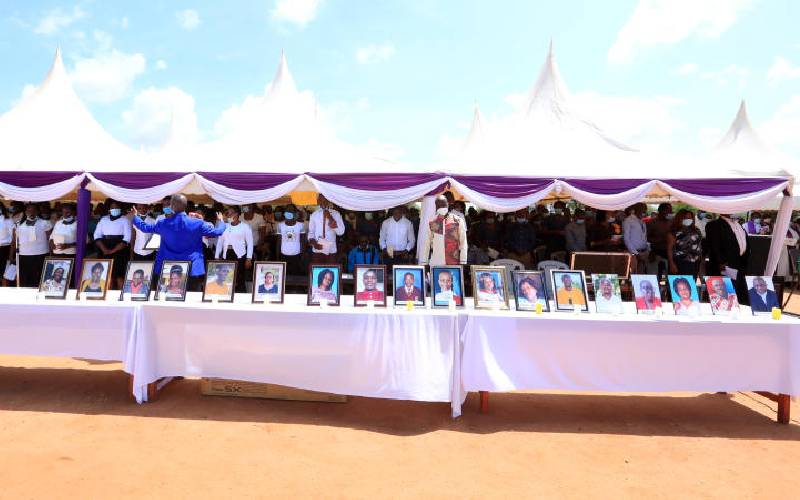 It was tears and grief at a requiem for the 33 people who died last Saturday after the bus they were travelling in plunged into River Enziu in Kitui County.
The ceremony held today at St Joseph's Seminary in Mwingi town was conducted by Kitui Catholic bishop Joseph Mwongela and graced by Archbishop of Nyeri Anthony Muheria.
With some of the faces displayed in front of the choir, among them of two religious brothers Stephen Kang'ethe and Kenneth Wanzala Okinda, who worked at the seminary, the choir belted a ballad after another in memory of the departed members of St Cecilia choir.
Bishop Mwongela recalled a US trip he took with Brother Okinda after which he promised to dedicate his life to serving the church.
"He told me 'Bishop, if the church has brought me to the US, a foreign trip I never thought I would take, I will serve the church all my life," Bishop Mwongela recalled.
On the fateful Saturday, Okinda was said to have been very jovial and was among those who ushered in extra passengers at River Enziu before the bus attempted the killer crossing.
His colleague, Kang'ethe, was the driver of the bus and was said to have been reluctant to cross the river until some passengers piled pressure on him.
A moving account of the tragic incident was given by Juliet Mwongeli Mutua, daughter to David Mutua and Veronica Syombua, an elderly couple that was renewing their marriage vows, and who lost 10 family members in the accident. Juliet's account of how her two sisters; Jane and Rachel, nephews and nieces drowned as she watched moved some of the mourners to tears.
She, however, said she had reason to thank God for being alive, after escaping death by a whisker.
She was among those who were ready to board the bus but when she dashed back to get face masks from a private car packed by the river, the driver of the bus drove off.
"This mask is my saving grace. Had I not gone back to my car to get the masks, I would have died alongside my sisters," she said.