Enziu River tragedy: Groom recounts the dark day he lost 10 relatives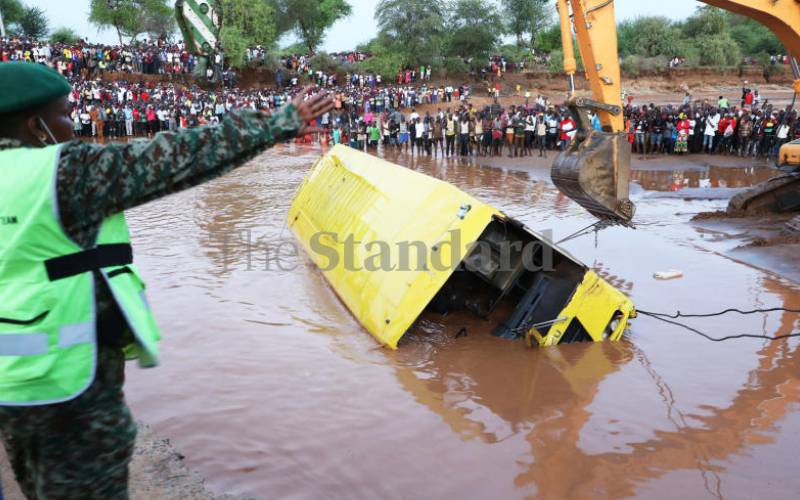 Distraught, pained and emotionally drained. That is the feeling one gets upon entering the home of David Mbuvi Mutua in Nuu, Kitui County.
Mutua seems lost in thought, perhaps still trying to wrap his mind around why fate had chosen to hand him such a cruel blow on an otherwise joyous day.
Neighbours and family have been flocking in to condole the family that lost 10 members at Enziu River on Saturday when a bus they were travelling in plunged into the river.
Discussions among family members and visitors are held in hushed tones, and even for a visitor, it is hard to know where to begin in offering condolences.
Mutua's family members, who include four children, are part of the 33 people who have so far been confirmed dead after the bus careered off a flooded bridge, slipping into a gorge at a section of the drift. The bus then tipped over and slowly sank into the river as helpless onlookers wailed uncontrollably.
On the fateful Saturday, Mutua who is in his 70s, together with his wife Veronica Syombua, were set to renew their marriage vows at St Joseph's Catholic Church, Nuu Parish.
Come to terms
Agonised by the loss, Mutua is still struggling to come to terms with what happened. All was set for their big day, and the couple had invited their children and grandchildren as well as neighbours and friends to celebrate their union.
St Cecilia Choir from Mwingi Catholic Church had also prepared songs to liven up the event.
"We were all ready. My wife and I had our gowns and rings ready," recalls Mutua.
But the celebratory mood was shattered when information came through that a bus carrying his family and members of the choir had plunged into River Enziu.
What followed was panic, confusion and pandemonium. Was it a bad dream? Mutua swallows bitterly as tears well up in his eyes. His wife is too weak to talk.
"We boarded a car and travelled straight to the river," he says. From his dreary eyes, it is easy to tell that the elderly man has not slept a wink since that dark Saturday.
At the river, his stomach sank when he saw the body of Rachel Mutua, one of his daughters being retrieved from the water. Then the depressing count began. All 10 from his family.
"I could clearly see them. 10 people, dead in the water... my blood," said Mutua before breaking into sobs.
The devastated couple camped at the river banks until 4pm when the bodies were moved to Mwingi Level Four hospital.
The tragedy consumed the lives of Mutua's two daughters; Jane and Rachael who died alongside her six-year-old daughter. Their grandchildren Angela Syombua and Veronica Kioko also lost their lives along with their two sons.
Other members who perished were Mary Kioko, Faith Munanu and Agnes Kakuvi.
Counts herself lucky
Mutua's other daughter Juliet counts herself lucky and says she would probably suffered the same fate had she not forgotten face masks inside her car that was parked on the banks of the river. The plan was for her and her passengers to abandon her small car and board the bus which was believed to be stable enough to cross through the flooded drift.
Juliet was about to board the ill-fated bus but remembered the masks and dashed back to her car to get them. By the time she was coming back, the bus was already midway in the waters. Then like in a horror movie, she saw it lose balance and slowly sink into the water, with her relatives and friends on board.
"I shouted for help and wailed as the bus got swallowed by the waters," she says. She even broke into loud prayers for divine intervention to save the passengers.
Sadly, in a matter of minutes, and right before her eyes, dozens of lives were lost. "I saw my two sisters being removed from the water, dead. My nephews, my nieces... I have never felt so helpless," she says.
Her brother Bernard Muthengi nearly drowned but his quick action to break a window and launch into the dirty waters saved him. He managed to grab one of his nephews and swum out with him to safety.
Meanwhile, two families who lost four members among them six children want the authorities to shorten the period of DNA identification, saying the long wait is traumatising.
Paul Makau and Peter Ngui said they had positively identified their departed underage members of the family, and that they wanted to start burial preparations. "We have been told to wait for two weeks but that is too long," said Makau.
Yesterday, the Principal Secretary for Public Works, Roads and Transport Mwangi Maringa accompanied by Cabinet Secretary for Energy Monicah Juma visited the scene and promised that a suspended bridge would be erected starting January 2022.
The two government officials offered their condolences to residents and the affected families, and acknowledged that the government's promises about the construction of the bridge since 2019 were yet to be fulfilled.
At the same time, PS Maringa said the government would fast-track construction of the Sh500 million bridge and unlike other bridges of its size that take two years to compete, this one would take only 10 months.
"We want to hasten the process of constructing this bridge so that we don't lose more lives," the PS said.
And as a stop gap measure during this rainy season, Maringa who was representing CS Macharia, said repair works on the eroded drift would commence immediately. Guard rails would also be erected on both sides of the bridge.
Juma urged residents to remain calm as government authorities conclude the forensic process to identify the bodies.