Women dream big with fruit project in semi-arid Makueni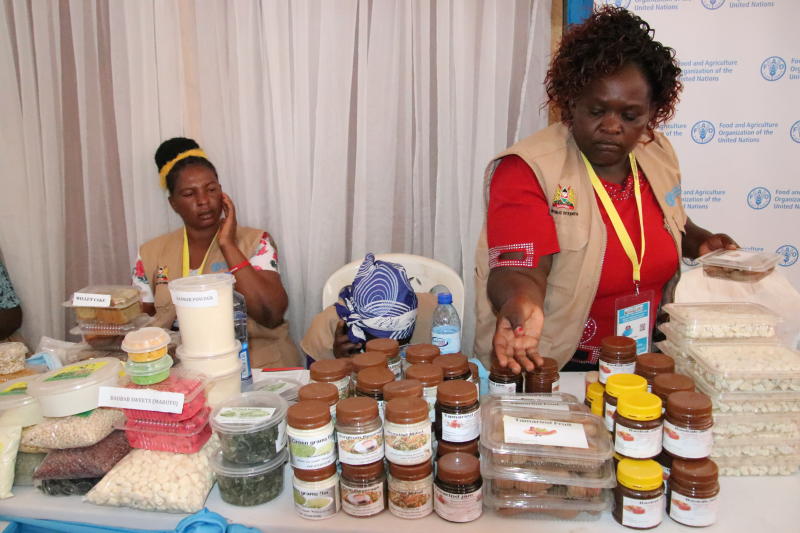 As rural farming communities continue to suffer under the effects of climate change, a women group in Makueni County is reaping big from selling wild forest fruits and drought-resistant crops.
Muuo wa Sombe Women Group, based in the dry Kibwezi East and with a membership of 30 women, has become a household name for products that are much sought in their locality and elsewhere in the county.
The group's exhibition stand was a centre of attraction at the 7th Annual Devolution Conference as delegates flocked in to view the products.
Some of the products which group members say have gained traction with the local community include jam and juice made from baobab and tamarind fruits.
Also on display were dried kales and amaranth, baobab fruit powder, baobab sweets locally known as mabuyu, and roasted pumpkin seeds.
Peninah David, the coordinator of Muuo wa Sombe, explained that baobab flour is a delicacy among pregnant women as it can be mixed with milk or eaten raw, and is rich in calcium.
She also said that millet flour, locally known as kinaa, and sorghum flour are good substitutes for hot beverages.Other products at the stand were green gram flour and cowpea flour, both of which are used to enrich maize flour.
David said they opted to add value to what is locally available and easily grows in the region.
In the past, locals rarely consumed the wild fruits as they were fodder for wild animals such as baboons.
Today, however, David says products from the wild fruits have found their way to dining tables in many households, thus creating a steady demand which has given the women a good market for their products.
"All we needed to do was to come up with ways of adding value to them and making income out of it. We can confidently say we have succeeded in a big way," David says.
She says before they ventured into the activity, it was impossible for many households to afford basic commodities. This, however, is a thing of the past as David says currently all members are able to earn a decent income.
"My husband and I had no jobs. Life was generally tough, I could not even afford money to go to the salon, but we thank God things have turned around," says David, revealing that she is now able to make Sh10,000 per month without breaking a sweat.
"Our husbands also respect us because they know we can provide for the family," she says.
David adds that the products can stay up to six months without refrigeration, the only preservative being lemon.
The women are also involved in kitchen gardening and have been trained on how to dry surplus vegetables and pack the same for future use. For this, they have acquired a small solar-powered drier.
The training on vegetable preservation was provided by the Food and Agriculture Organization (FAO) in efforts to improve food security and nutrition, while empowering rural communities in arid and semi-arid lands to cope with the vagaries of weather.
"The training focuses on giving skills to farmers to make use of what is locally available and make the best use of it," said Hamisi Williams, the head of programmes at FAO.
Adding that, "It is a multi pronged approach to maximize on the available resources." Trainees are then linked to experts in areas such as conservation agriculture and end up being trainers within the community.
He says the success of these trainings is that eight out of 10 groups trained in Makueni, Kitui and Tharaka Nithi counties are already involved in income generating activities.
However, the Kibwezi women are not able to carry out mass production of their products as they have not acquired certification from the Kenya Bureau of Standards (Kebs).
"We are encouraged by the demand and would want to produce more of our products. Our clients ask why they cannot find the products in local supermarkets," David says, noting that the conditions set up by Kebs and the requisite fees are above their reach.