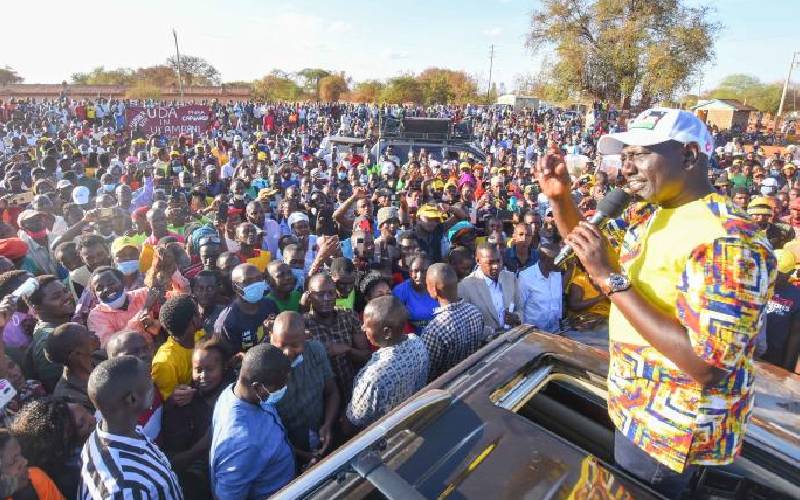 Deputy President William Ruto's Sh1 million pledge to a section of commercial sex workers in Mtito Andei, Makueni County, has rubbed a section of Kenyans the wrong way.
On Monday, during his tour of the commercial town, Ruto asked sex workers in the area to form an association, which would receive his Sh1 million donation.
Ruto said the money would be used by the beneficiaries to start "more decent" jobs, instead of trading their bodies at a fee.
In Kenya, it is illegal to profit from prostitution, and to aid, abet, compel or incite prostitution.
Ruto made the promise after a youthful woman, who introduced herself as a sex worker in the town, sought his intervention, citing economic hardship wrought by the Covid-19 pandemic.
The woman, who identified herself as Caro, spoke when the DP was addressing a roadside gathering in Mtito Andei.
Ruto's pledge to the sex workers was met with criticism online, with a section faulting him for "condoning an outlawed trade".
Facebook user Silvester Nyaberi said: "Where in the church or Bible does it say prostitution is allowed? Ruto is desperate for the presidency. He is promising everything just to get votes."
Saul Ouma said he was "doubtful" of Ruto's ability to fulfill all pledges he's made.
Jessie Jackson said: "They (sex workers) must be over 500 of them. So, each one will get Sh2,000, which won't help them. This is what is called a handout."
Another user stated: "A Sacco won't help them because they will still need to 'work' to grow the Sacco. Because they'll still be in need of an income, they'll be forced to revert to prostitution."
Stephine Nyasirwa said illiteracy and poverty were to blame for the sprouting of sex dens in remote towns, and that Ruto ought to have addressed the illicit trade's root cause rather than offer stop-gap solutions.
A section of online users, who came to the DP's defense, observed that Ruto was providing an opportunity for the sex workers to ditch the illicit trade.
Nick Danson said: "If Ruto's plan can make them change to other [legal] businesses, then even God would be happy."
On micro-blogging site Twitter, John Njenga Karugia said: "Prostitutes in Kenya and anywhere in the world deserve dignity. Dignity comes in many forms. Pay agreed fees. Wear that condom. Do not rape. Respect them. Support their Sacco in Mtito Andei like William Ruto if you wish. But playing a [expletive] judge over their lives is idiotic."
Madam Sarah (@OumaSarah1) said: "God's assistants and Deputy Jesus' think they have a right to judge and police prostitutes. Sex workers in Mtito Andei and all over the country should be respected, supported, and protected."
Prostitution: what the law says
The Penal Code, the only substantive law dealing with sex work before the passage of the Sexual Offences Act in 2006, defines two types of offences with respect to sex work namely "living on the earnings of prostitution" and "soliciting or importuning for immoral purposes."
Section 153 says: "(1) Every male person who- (a) knowingly lives wholly or in part on the earnings of prostitution, or (b) in any public place persistently solicits or importunes for immoral purposes, is guilty of a felony.
"(2) Where a male person is proved to live with or to be habitually in the company of a prostitute or is proved to have exercised control, direction or influence over the movements of a prostitute in such a manner as to show that he is aiding, abetting or compelling her prostitution with any other person, or generally, he shall unless he satisfies the court to the contrary, be deemed to be knowingly living on the earnings of prostitution."
Section 154 says: "Every woman who knowingly lives wholly or in part on the earnings of prostitution, or who is proved to have, for the purpose of gain, exercised control, direction or influence over the movements of a prostitute in such manner as to show that she is aiding, abetting or compelling her prostitution with any person, or generally, is guilty of a felony."
The Penal Code does not provide a legal definition of "prostitution" nor does it directly prohibit "prostitution." The Penal Code provisions, however, criminalise the actions of third parties who benefit from sex work and prohibit promoting the act of prostitution, for example by willingly and knowingly offering the use of premises for sex work.
Even though the Sexual Offences Act was enacted in 2006, its provisions concerning sex work retain the general spirit of the criminal law contained in the Penal Code.
This section indicates that anyone encouraging sex work with the expectation of gain for himself or herself is guilty of an offence.