Uhuru's hope for food secure region lies in Thwake Dam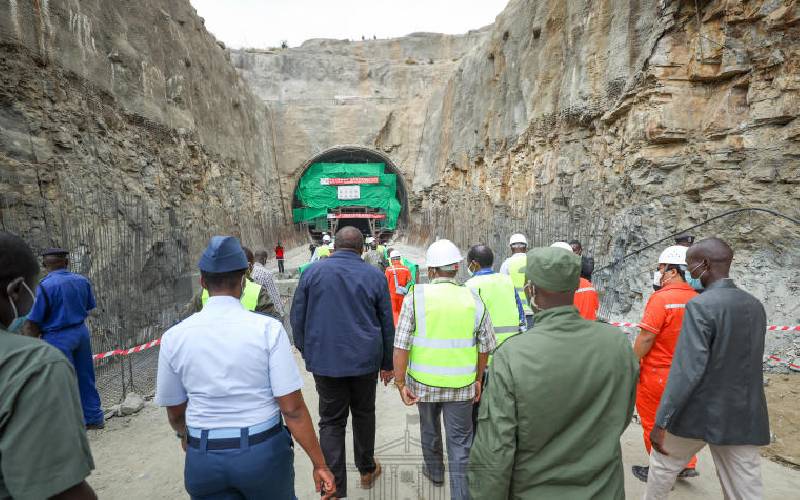 The Sh42 billion multipurpose embankment Thwake Dam is set to be complete in June next year.
Upon its completion, the dam, which sits on 9,217 acres of land in Kitui and Makueni counties, with a catchment spanning about 10,274 square kilometres, is expected to provide water for domestic use and irrigation and inject 20 megawatts of electricity into the national grid.
An embankment dam is one that is constructed of excavated natural materials or of industrial waste materials.
Speaking while inspecting the progress of the construction of the dam last Friday, President Uhuru Kenyatta said his government will clean River Athi, days after Auditor General Nancy Gathungu raised concerns about the safety of the water that is fed into the dam, which is mostly from the highly polluted River Athi.
"We shall do whatever it takes to ensure that the pollution on River Athi, which takes place upstream and ends up exposing communities downstream, is sorted out because it is the right of every Kenyan to access clean water," said President Kenyatta.
The Auditor General said the river water is polluted with heavy metal and is unfit for human consumption.
She said there was no evidence of efforts by the implementing agency to mitigate against the risk and ensure the river is free from pollutants and the water fit for human consumption.
However, Water, Sanitation and Irrigation Cabinet Secretary Sicily Kariuki downplayed the Auditor General's report. The CS however admitted that the waters in Nairobi into Athi rivers are polluted through land degradation, informal settlements and direction of sewage into them.
"Plans are underway to ensure clean water reaches the residents. A multi-agency team, led by the water secretary at the ministry, will mitigate pollution under the Nairobi regeneration programme, in which we are focusing on the rehabilitation of burst sewer lines in informal settlements," said Kariuki.
"We are also offering ablution blocks to the informal settlement dwellers. This way, raw sewage can be contained in a manner that does not allow it to flow into rivers."
The CS said the Government and the African Development Bank had partnered on a Sh10 billion project aimed at improving the sewerage infrastructure.
Safe water
"We are also using the project to increase sewer lines in Nairobi. We have another Sh10 billion in a partnership with the French Bank to deal with issues of sewerage and sanitation for Nairobi and its environs. Effectively, we have interventions that will ensure that by the time the dam will be filling, we will have safe water fit for use. No government can give its people something bad," she said.
Thwake Dam will supply Konza Technopolis with 100 million cubic metres of water per day, which is more than 60 per cent of the water that will be collected in the dam.
Phase One of the construction of the 80.5-metre high multi-purpose dam is ongoing, with a storage capacity of 688 million cubic metres of water. Phase Two includes the development of water supply, sanitation and waste water infrastructure to supply an estimated 150,000 cubic metres per day of treated water to approximately 1.3 million people in the rural areas of Kitui and Makueni counties and Konza Technopolis in Machakos County.
Phase Three will be the development of a hydropower generating system with an installed capacity of approximately 20MW, while Phase Four will be the development of an irrigation scheme to ultimately irrigate 40,000 hectares of land.
Konza Technopolis is going into phase two of completing its water treatment plant and water reclamation plant, which currently holds 6,000 cubic metres of water per day in phase one and has the potential to hold up to 13,000 cubic metres per day upon its completion.
The dam project, which is being undertaken by China Gezhouba Group Company, is 56 per cent complete.
According to Samuel Alima, the project's lead engineer, the main component of the dam, which is the water reservoir, will be completed in November next year. However, plans are underway to ensure it is completed five months earlier.
The president, however, showed confidence that River Athi will be clean. He directed the National Environment Management Authority (Nema) to speedily stem the river's pollution by stopping irresponsible factories from draining raw effluent into the river, which drains into the Indian Ocean.
"Thanks to this dam, the Ukambani region will soon become one of the country's food baskets," he said.
The dam is a flagship programme under Vision 2030, and a key project falling under the president's Big Push Investments legacy frame.