CS: Construction of Thwake Dam slowed down by pandemic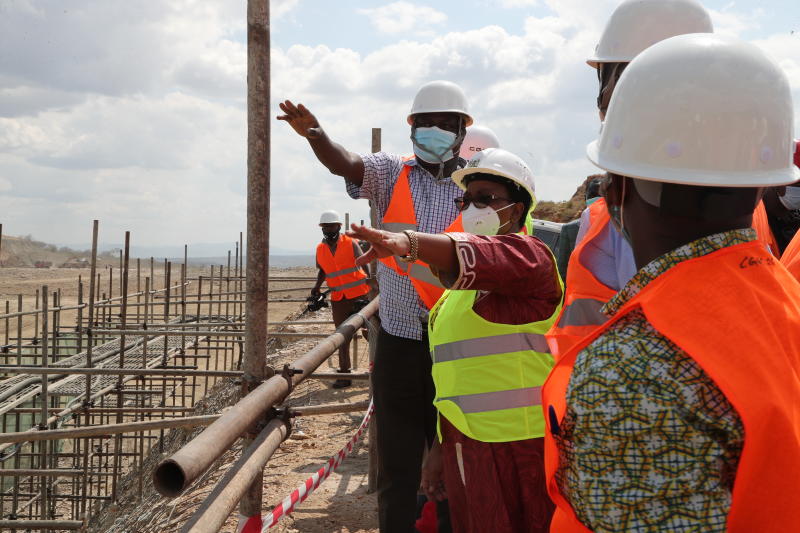 Water, Sanitation and Irrigation Cabinet Secretary Sicily Kariuki has assured that Thwake Dam will be completed within the stipulated time in December 2022.
The construction of the dam which is at 37 per cent has been at a slow rate since the onset of Covid-19 with the CS citing the reduction of the number of workers at the site.
"There has been a delay of 5 per cent owing to the cutting down of workers due to the pandemic but we have agreed with the consultant to bring back 400 workers so that we can cover the lost time," said Kariuki
Currently, the dam is getting constructed by 800 workers with an aim of observing social distancing. The workers have also undergone Covid-19 testing in the previous month something that has ensured safety in East Africa's largest dam.
On the pollution, the CS assured that works to rehabilitate rivers feeding River Athi has commenced so that the water that will percolate at the dam will be clean for use.
"My ministry is collaborating with ministries including the Environment Ministry and the counties to ensure the water that will be supplied to Thwake Dam is clean and usable. We have made it our business to clean the Athi and Nairobi rivers," she said
There has been an outcry on the safety of Thwake Dam waters due to water pollution of River Athi as it snakes through Machakos, Makueni to the Indian Ocean. Most of the pollutants are attributed to industrial effluent released from Gikuyu and Nairobi areas. The CS warned that it was criminal for various factories to continue polluting rivers feeding the dam.
The CS was accompanied by Water, Sanitation and Irrigation Chief Administrative Secretary (CAS) Dr Andrew Tuimur, Makueni MP Daniel Maanzo, Secretary Administration in the Ministry of Water, Sanitation and Irrigation Mr Joseph Keter, Water Secretary Eng. Samuel A.O Alima, Program Coordinator for Thwake Multipurpose Water Development Program Mr Musembi Munyao and a section of senior ministry officials.
Thwake Dam project is funded by both the national government and the African Development Bank and it is built in phases where it will involve irrigation phase targeting 40,000 hectares of land and hydroelectric energy production.
Makueni MP Daniel Maanzo said that the envisioned Konza Techno City in Machakos County will also get its water supply from Thwake Dam.
"This project is critical for our counties. It has come at the right time. Once complete, it will control the perennial floods downstream. The Galana-Gulalu irrigation scheme will also benefit and this will ensure food security for the country," said Maanzo.