Popular snake handler bitten by cobra kept in the house for two days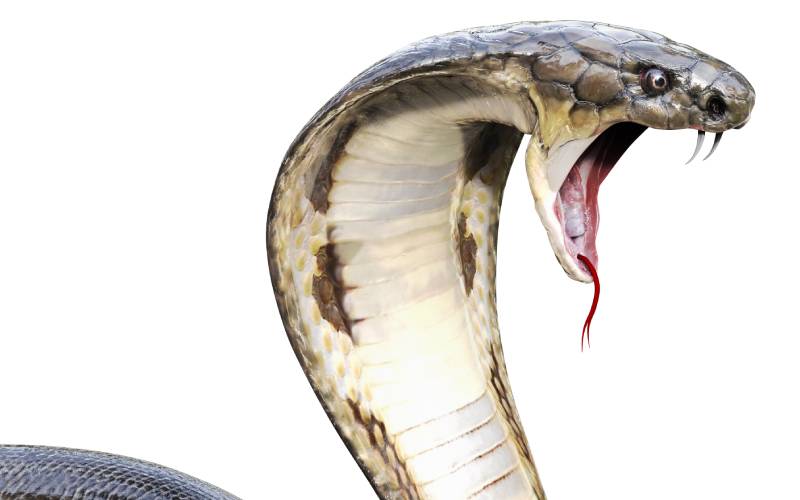 Residents of Kiandegwa village in Mwea Constituency, Kirinyaga County were treated to a rare incident when a snake handler was attacked by a cobra he had confined in his house for two days.
The 25-year-old is known for catching snakes in the rice plantations since he was 10 years old.
Peterson Ngure who spoke at his Kiandegwa village after he was discharged from Kimbimbi sub-County Hospital where he was admitted for a week, said the seven-foot cobra attacked him while he had it on his back as he always did.
"It bit me near my private parts and that was the first time I was attacked by a snake since I started catching them," Ngure said.
According to the residents, Ngure was called after the cobra was found in a rice plantation in Karaba unit one.
John Chege said that no one would get close to the snake but Ngure arrived and easily caught it.
Chege said they were surprised to hear that Ngure had been attacked by the snake since he has never been bitten from the time he started catching snakes.
Ngure said that the cobra disappeared after it had bitten him. "My brothers rushed me to hospital and my cobra was never found again. I'm still looking for it," Ngure said.
Mary Wambui, a neighbour, said the Kenya Wildlife Service (KWS) should consider hiring the young man as a snake handler.
Wambui added that Ngure developed exceptional talent since he was a child. Ngure said many neighbours are always worried about his love for snakes.
"I am the answer to the nagging problem of snakes in the rice paddies of Mwea," said Ngure.