She wasn't his side-lover, mother of woman who died in crash alongside MCA says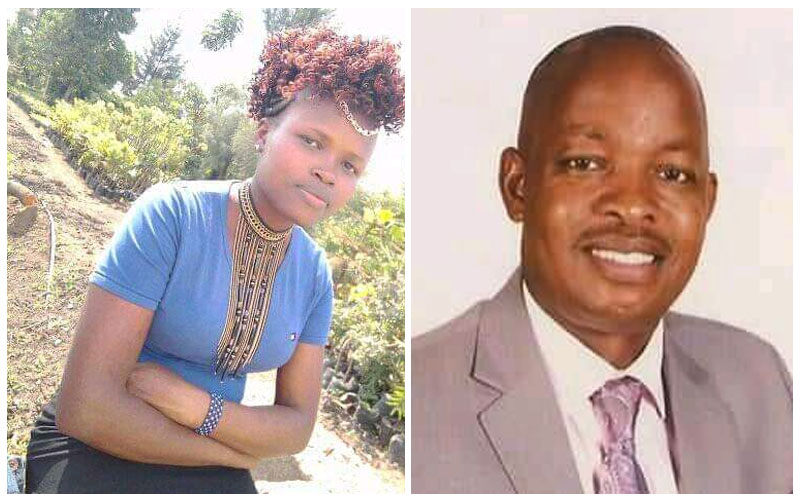 "She was not his lover, but a friend. No sexual relationship, whatsoever, existed between the MCA and my daughter, I can swear." Shaking with rage amid grief, Miriam Nzilani, passionately defended her daughter Hope Mutheu Kaunda against viral sleazy allegations following her death alongside Nguu-Masumba MCA Haris Ngui.
Mutheu and Ngui died minutes apart on Tuesday, June 15 after the ward representative's Toyota Land Cruiser Prado TX collided head-on with a heavy commercial truck at Salama on the Nairobi-Mombasa Highway.
Ngui died at the scene while his co-occupant, Mutheu, was pronounced dead upon arrival at the Machakos Level 5 Hospital. The accident occurred at 7pm.
Immediately after the fatal crash, word got round that Ngui, 51, was in the car with a young woman whom he was "secretly seeing". The married MCA had three children, with his eldest admitted to the Bar recently.
Several Facebook pages in Makueni were awash with posts wondering where the two were headed at night.
Hope Mutheu's mother now says her 22-year-old daughter was not in an intimate relationship with the MCA.
"He [Ngui] was our family friend," Miriam Nzilani told The Standard.
"I met him [Ngui] many years ago, when he regularly visited his relatives who are my neighbours here at Kwa Mboo Village in Kibwezi West," she added.
According to Nzilani, her daughter was returning to school on Tuesday, and the Machakos-bound ward rep had offered her lift.
Mutheu was a student at the Mumbuni Technical Training College in Machakos, where she was pursuing a driving course.
"She was to sit her theory exam on Wednesday, June 16 before the final practical test on Monday, June 21," said Nzilani.
"She (Mutheu) had been informed Ngui would travel to Machakos that day (Tuesday), and so, she asked if she could hitch a lift. She left home at 4pm on a motorbike, saying she was headed to town to meet the MCA," added the vicenarian's mum.
According to Nzilani, Ngui had recently assisted Mutheu secure admission to the National Youth Service (NYS) programme.
"She was scheduled to join the NYS training centre in Gilgil, Nakuru County on June 26, after completing her driving course."
The distressed mother says allegations that her first born child was dating the MCA are hurtful and disrespectful.
Ngui's body was moved to Montezuma Monalisa Funeral Home in Machakos, whereas that of Mutheu was moved to the Machakos Level 5 Hospital morgue.
This week, Makueni County Assembly MCAs suspended sessions to mourn their late colleague.
Speaker Douglas Mbilu eulogised Ngui as an "intelligent lawmaker".
"He chaired the Devolution Committee that recently created the South Eastern Economic Bloc (SEKEB) to boost regional economic growth," he said.
Makueni Governor Kivutha Kibwana said Ngui was his political student, "who brought positive changes to Nguu-Masumba Ward".