New solar-powered house for dejected family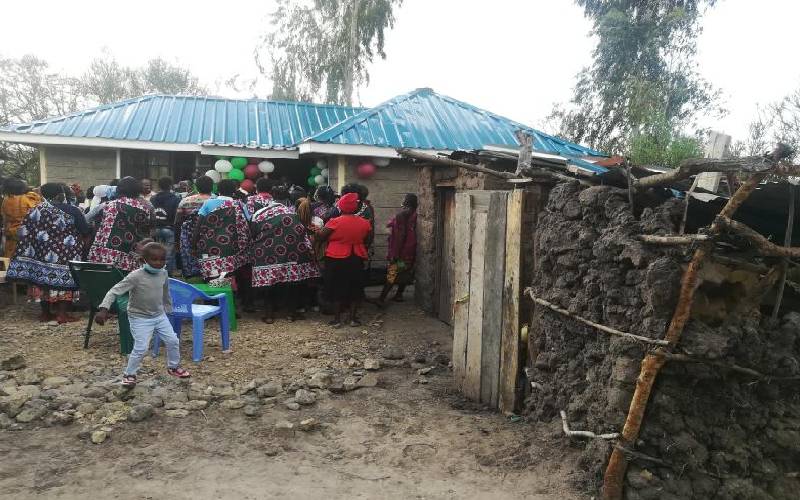 Christmas has come early for Mary Nduku and her five children. After spending years living in a dilapidated shed, they now have a decent shelter thanks to a well-wisher.
The 38-year-old woman and her children have been living in abject poverty after her husband walked out of their home after she developed health complications. That was 10 years ago.
With five children to take care of with no income, Nduku's household was condemned to a life of misery, poverty and desperation.
Nduku's second-born daughter, Mercy Kalondu, dropped out of primary school to work as a house girl to fend for her sickly mother and three siblings.
"It was disheartening to see my mother and three siblings sleep hungry for lack of food for several days," recalls Mercy, who has since joined Form One at Kathiani Girls High School.
In their small homestead in Ivovoani, Machakos County, stood a tiny two-roomed dilapidated structure with shattered pieces of furniture whose state summarised the quality of life in Nduku's household.
Nduku joins dozens of other beneficiaries across the country whose living conditions have been transformed by Optiven Foundation.
Touched by the family's plight, Optiven Foundation approved the construction of a decent home for them.
Last week, Optiven's CEO George Waciuri led a team to Nduku's home where a brief handover ceremony was held amid cheers by dozens of neighbours who turned up to witness the event. The permanent stone house has been furnished with a modern sofa set, coffee table, a wall unit, a double-decker bed for the children and single bed for the master bedroom.
The house is also installed with solar panel with functioning lighting components. There is a toilet block which also houses a bathroom.
An elated Nduku was overcome with tears of joy as Optiven ushered her into the new house. "I can't believe my eyes. It is only God who understands the suffering I have gone through with my children," she said.
Optiven's project seeks to restore dignity to the less fortunate in the society.