Boost as NGO donates Sh608,000 detergents for Embu hospitals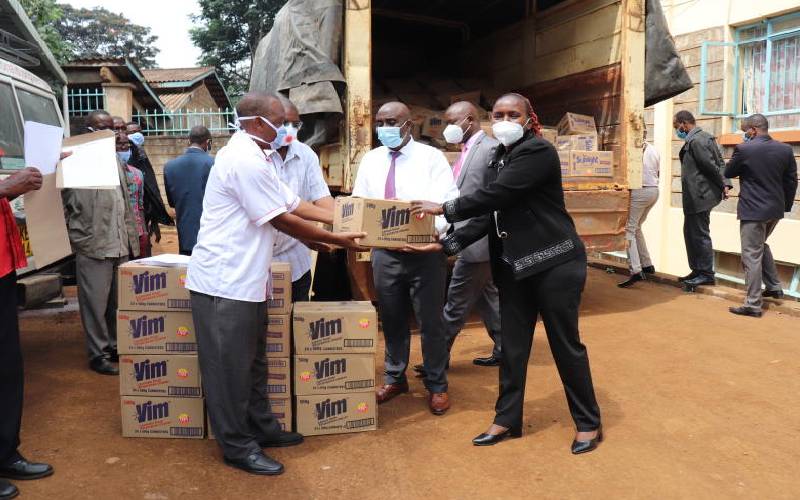 ActionAid International Kenya has donated detergents worth Sh608, 000 which will be distributed to all health facilities in Embu County.
The detergents that were handed over by ActionAid Regional Coordinator Chimera Mwachidudu to the Embu County Department of Health will support the fight against Covid-19 in the health facilities through maintenance of proper hygiene.
While receiving the donations, Health Executive Patrick Waganagwa appreciated the gesture, saying the non-government organisation has contributed immensely even in other sectors.
"The detergents will be supplied to all health facilities and will boost not only the fight against the Covid-19 pandemic but other communicable diseases," he said.
Waganagwa said cleanliness in the health facilities is crucial in the fight against the coronavirus, adding that with the detergents, the healthcare workers will be assured of cleanliness and hence working without any fear.
"Our healthcare workers are well prepared for the pandemic. We have already trained and provided them with personal protective gears," said the Executive who was accompanied by health chiefs and administrators.
Mwachidudu said ActionAid has partnered with Unilever Industries in providing the detergents.
He said apart from donating to the department of health, ActionAid has also donated anti-Covid-19 protective equipment to boda boda riders, community health volunteers and communities.
Mwachidudu also noted that they have been creating awareness by distributing Covid-19 posters to various groups.