Water pans bring hope to farmers in dry areas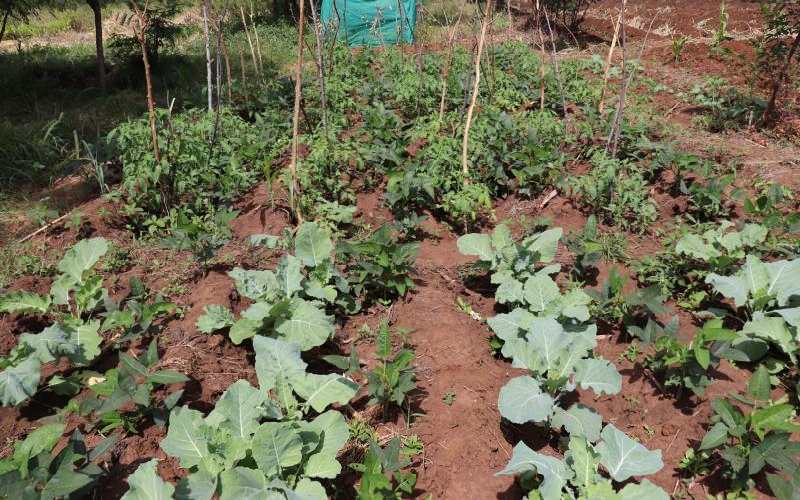 For the first time during dry period, horticultural crops are healthy and blossoming in Michael Njagi's farm in semi-arid Kangeta village in Mbeere South, Embu County.
Gardens of well-irrigated tomatoes, capsicum, cow peas, kales, fruit trees and green maize, radiate in their calming green hue amid the scorching sun that has left the ground parched and cracked, just a few weeks after the season's rain stopped.
A seasoned farmer, Mr Njagi is using water collected in a recently built pan to irrigate horticultural crops for his household needs and for sale. The water pan occupying about an eighth of an acre was ready in March this year.
With a capacity of one million litres, the pan collected the run-off water to the brim, and is now supplying the life-sustaining commodity to Njagi's crops.
Njagi said in the past, he could not risk planting a lot of horticultural crops due to drought.
How to apply
"I expect to use the harvested water to irrigate my crops for several weeks. If the area receives some sporadic rainfall, the water may even last until the next season," he said.
Take a quick survey and help us improve our website!
Take a survey
Kangeta area, just like the larger Mbeere region, frequently suffers from inadequate rainfall.
That has forced farmers to grow drought resilient crops such as millet and green grams, with only those living near rivers attempting horticultural farming.
Njagi is a beneficiary of a programme by the national government through the National Irrigation Authority that is constructing water pans for households in dry parts of the country.
Mbeere will receive 670 water pans, with some 550 already constructed.
Agriculture Chief Administrative Secretary Ann Nyagah said the combined water harvested by the dams in Mbeere will be over 670 million litres, which is expected to increase food production.
Ms Nyagah said farmers provide the land while the authority constructs the water pans at no cost. Farmers are required to fence the water pan.
To benefit from the project, farmers are required to apply through their local agricultural offices, who then sends officers to assess the farm.
Felista Ndegi, another beneficiary, said she is now able to water her animals and grew vegetables.
"Before, we had a few tanks to harvest rain water, which would soon be depleted, forcing us to fetch water from River Magachia, three kilometres away," she said.