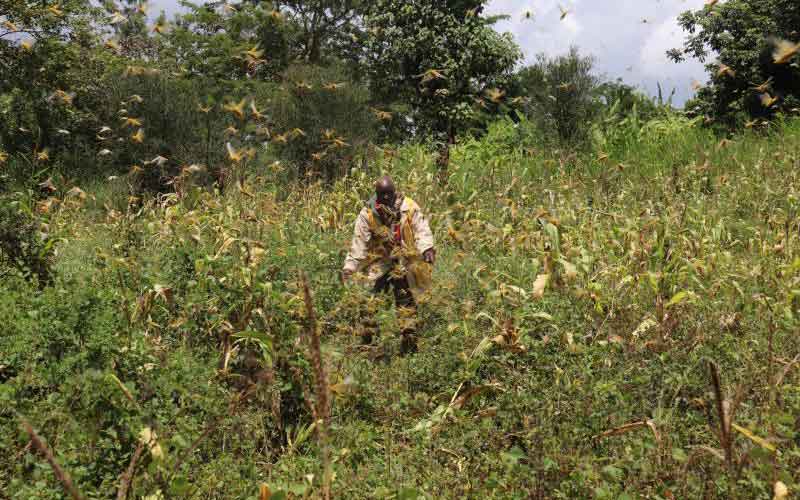 There is fear that the desert locusts invasion in the lower part of Embu County may worsen after the eggs they laid start hatching.
Area leaders have therefore urged farmers not to sell their food stocks just in case the newly hatched locusts invade the germinating crops when rains begin next month.
Read More
County Assembly Minority Leader Masters Mwaniki and Muminji MCA Newton Kariuki warned that the locusts from the millions of eggs laid in Kiambere ward would be more destructive.
Mitigation measures
However, Government Spokesman Col (Rtd) Cyrus Oguna and Eastern Regional Commissioner Isaiah Nakoru said the State had intensified mitigation measures, and aerial and ground spraying is ongoing in various parts.
"The government has deployed 10 airplanes to spray locusts, which is complemented by workers using hand pumps. The locusts invasion is a global problem and we are doing all that is possible to stop it," Oguna said.
Nakoru urged residents in affected areas to back up government efforts through traditional means such as digging ditches to trap the nymphs before they start flying and destroy them. Mwaniki said entomologists had estimated a swarm that stretched for more than seven kilometres, as is the case in Kiambere, to contain at least 40 million locusts.
"Kiambere is one of the spots in the country affected by the locusts menace.
"The area faces a hunger threat because any food crop planted in the impending rainy season may not survive the hatched nymphs," Mwaniki, who is the Kiambere MCA, said.
He said the fresh invasion may occur in the next three weeks.
"Despite locusts invading the region weeks ago, I haven't heard from the governors or a proclamation by President Uhuru Kenyatta declaring the locusts a national disaster.
"All the attention is on the Building Bridges Initiative," he said.
Kariuki echoed the sentiments, saying the future was very uncertain for farmers.
"The onset of the rainy season may present a good opportunity for the locusts to feed on fresh green vegetation, including food crops, that will be germinating, which will spell doom for thousands of households," he said. Kariuki said the county was staring at a disaster if measures to eradicate the nymphs are not instituted immediately the eggs hatch.
He said the problem affected large swathes of land across Mbeere region where the adult locusts had camped for several weeks before migrating.