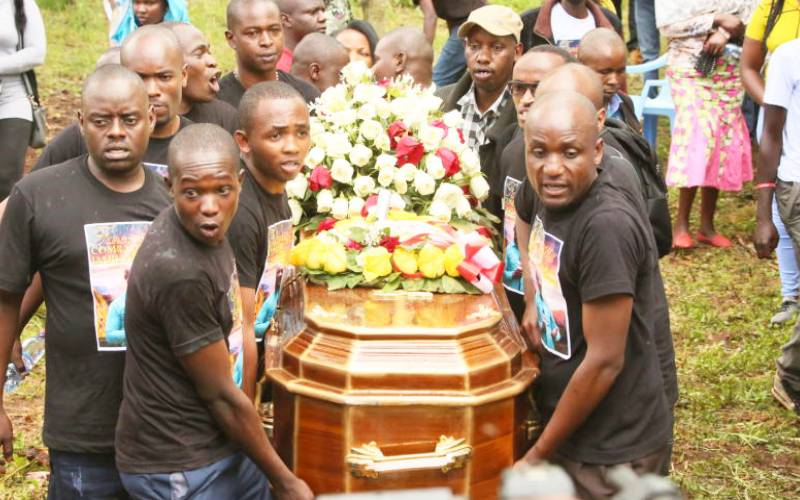 Standard Group Journalist Darlington Manyara was yesterday laid to rest at their rural home in Kithoka, Meru County. In a funeral service attended by hundreds of mourners including journalists from different media houses, Manyara was described as a promising reporter. Mourners braved an early afternoon drizzle to give Manyara a befitting send-off. Fellow scribes were clad in T-shirts with his portrait. Speaker after speaker eulogised Manyara as a resourceful journalist who had cut his teeth in the rigours of the profession.
SEE ALSO: Busia farmers, millers oppose KESMA move to lift ban on sugar importation
Great potential
Meru Governor Kiraitu Murungi described Manyara as a professional with a good grasp of devolution matters. Kiraitu's message was delivered by his Chief of Staff Gideon Kimathi, who also said he had a good working relationship with Manyara. In his message of condolences, Nyeri Bureau Chief Francis Ngige said the company had lost a budding journalist who had great potential. "For the three years he has worked for the group, Manyara proved to be an outstanding journalist, excelling in agribusiness and crime reporting. He was a prolific writer whose services will be missed. For the years he has worked at the Meru office, he proved to be a reliable scribe," Ngige said.
SEE ALSO: New tea rules to take effect in September
Senior reporter Wainaina Ndung'u, under who Manyara worked, in a special tribute, described him as gifted. "Manyara had a talent in networking, which is an asset in journalism," Wainaina said. Others who gave tributes were Agriculture Cabinet Secretary Peter Munya's adviser James Mutia and Red Cross Mt Kenya coordinator Gitonga Mugambi. Manyara died last week after a short illness.