Emotional send off for slain Syombua, two children as relatives cry for justice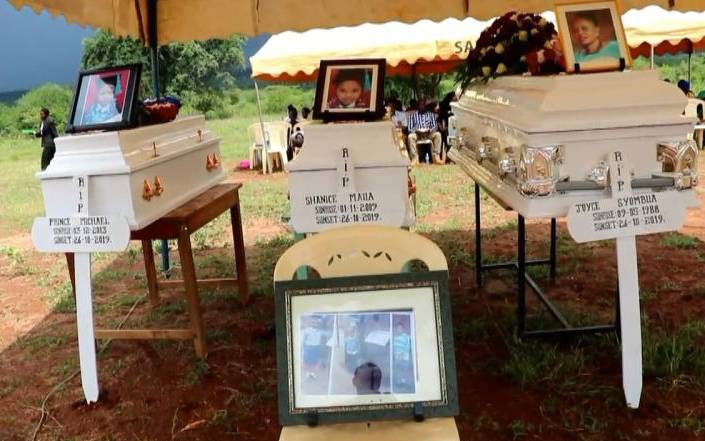 Emotions ran high at Kyeithani Village in Kitui rural on Saturday as the remains of Joyce Syombua who was brutally murdered alongside her two children in Nanyuki about a month ago were laid to rest at their rural home.
Calls for justice dominated the somber sendoff for Syombua who died at the age of 31 and her daughter Shanice Maua (10) and son Prince Michael (5).
Syombua's estranged partner Major Peter Mugure who was based at Laikipia Airbase and two other accomplices have been arrested and placed in police custody over the murder as investigations go on.
Postmortem report showed that Syombua died as a result of several blows inflicted on her head with a blunt object while the two children were strangled to death with a rope.
Aggrieved neighbours and relatives appealed to the investigating agencies to speed up investigations into the gruesome murders and prosecute those who committed the heinous crime.
Syombua's mother Maua Malombe watched the sombre ceremony pensively, too grief-stricken to speak.
The deceased and her children were eulogised as humble and loving persons who did not deserve the cruel attack meted on them.
The late Syombua, who was the first born of five siblings was hailed as the family's guardian angel and a beacon of hope.
"She was a devoted Christian and a prayer warrior. The children were excessively jovial," said Gregory Mutua, a relative. He called on the perpetrators of the crime to own up and repent.
George Kiliku, another relative said that investigations into the murders should be speeded up in order for the family to find peace.
"What happened to Syombua and her children was a beastly act. We hope that the investigators will be thorough so that all those involved face the law for their actions," Kiliku said.
In an earlier interview, Syombua's mother described her daughter as hardworking, outgoing and sociable.
"She took good care of her children even without the support of him (Mugure). She had even promised to take her sibling to college," she said.
Syombua was working in a bakery within Kayole in Nairobi County and on the sides she used to sell women clothing, her mother revealed. The family lived in Kayole, Nairobi County.
Her decomposing body together with those of her children, all stashed in gunny bags were discovered on November 16, 2019, buried in a shallow grave within Thingithu Estate in Nanyuki, a few kilometres from Laikipia army barracks. The investigators believe they were killed before their bodies were sneaked out.
The bodies of the children were stacked on top of their mother. Major Mugure who has since been placed in police custody alongside Collins Pamba and Peter Maina Mwangi, had earlier led homicide officers and the military police to the grave yard where the three had been buried.
The family went missing on October 26, 2019, a day after visiting Major Mugure who had reportedly asked to see the children.
The relationship between Syombua and Mugure hit the rocks in February this year and she moved to Milimani Children's Court where she filed a child maintenance case under a certificate of urgency. She accused Major Mugure of abandonment and failing to provide for the children.
But in a replying affidavit filed at the court on March 22, 2019 Major Mugure denied any relationship with her and her two children and demanded for a proof that he was their father.
DNA tests conducted at the government chemist on April 12, 2019, government analyst Emily Okworo observed that "there were 99.99 percent chances that Peter Mwaura Mugure is the biological father to both Shanice Maua and Prince Michael."
In July this year, the court ordered Mugure to pay a monthly upkeep of Sh25,000 for the two children in addition to paying their school fees at a private academy in Nairobi.