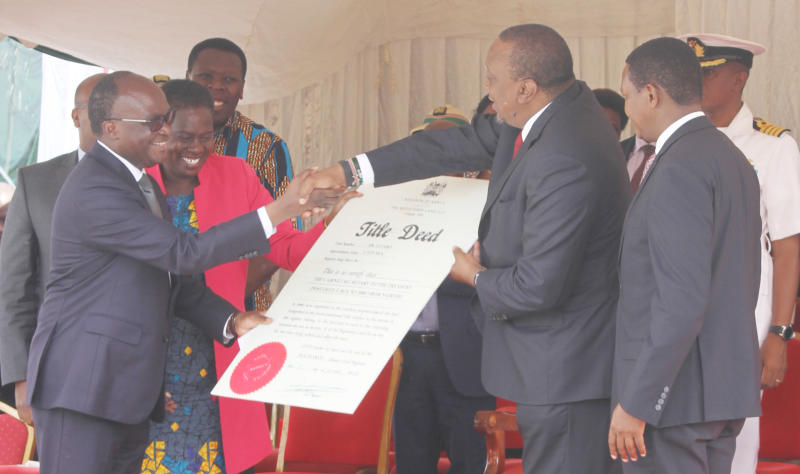 President Uhuru Kenyatta yesterday launched one of the housing projects under the Affordable Housing Programme initiative.
Habitat Heights at Lukenya in Machakos County — one of the Strategic Partners' projects — will deliver 8,888 units.
The development is one of the projects of the United Nations Office for Project Services (UNOPS) and their partners and will provide housing units to present and retired/past staff members of the various constituent arms of the United Nations, their families and friends.
Habitat Heights is the first project developed under the Memorandum of Understanding between the State Department for Housing and Urban Development and UNOPs in September 2018 to develop 100,000 housing units.
The project is being undertaken by AFRA Holdings Limited through its local subsidiary Singapura Developers Ltd (Kenya) in conjunction with Housing Finance.
President Kenyatta said the government is committed to increasing home-ownership in Kenya.
"The delivery of the houses promoted under the Affordable Housing Programme initiative demonstrates the government's commitment to delivering affordable housing which is one of the Big Four Agenda priority areas," he said.
"The last 18 months have been spent laying the groundwork for affordable housing by addressing some of the systemic issues that have made housing unavailable and unaffordable in urban areas," the President said.
Affordable housing
The Cabinet Secretary for Transport, Infrastructure, Housing and Urban Development, James Macharia said that Habitat Heights Project is catalytic and being the first major project promoted under the Affordable Housing Programme, it has attracted other investors to participate.
"These kinds of projects cannot succeed without strategic partners, and we are happy to have more partners come on board," Mr Macharia said.
The United Nations Secretary General and Executive Director of UNOPS, Vitaly Vansheilboim congratulated the government for bringing affordable housing to the forefront.
"We will showcase this project across Africa as it demonstrates what a dedicated government can do to the people," Mr Vansheilboim said.
State Department of Housing Principal Secretary Charles Hinga said there is a rapid rate of urbanisation in Kenya and the need for access to decent and affordable housing is more important than ever.
Machakos County Governor, Alfred Mutua said the county government is committed to continue facilitating investors to put up affordable houses.