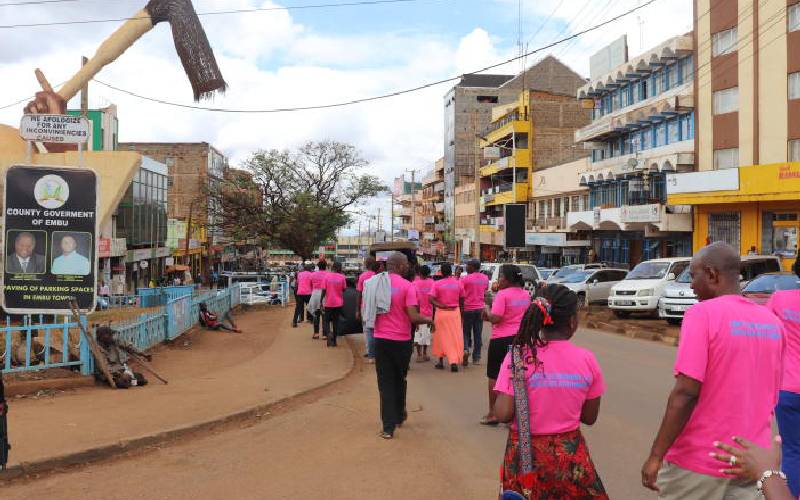 Embu town residents have raised concern over the rising number of foreign beggars 'planted' in the streets of the town to beg.
The beggars said to be from Tanzania and are exhibiting various disabilities are accompanied by able people who take all the money collected, according to security enforcers and community leaders.
Kenya National Chamber of Commerce and Industry Embu branch chairman Mugo Mate said businesspeople have complained that the beggars who sit outside shops are scaring away customers.
Mate called on the police to investigate claims of an extortion cartel operating in Embu, Kerugoya and Chuka towns using the beggars to fleece the public.
"We are informed that there is a house in Embu town where the beggars are housed. We have already raised the matter with the police, the county government and the department of children services. If they are not going to work on this menace, we will take it upon ourselves," said Mate.
A spot check in the town showed some female beggars use infants to attract the sympathy of passers-by.
A resident, Felix Fundi, said the beggars are exposed to harsh weather condition as they are left in open places where they face direct sunlight or rain.
A boda boda operator, Chris Murithi, said they are usually hired to pick and drop the beggars from a one-roomed house to the streets in the morning and late in the evening.
James Gangara, a taxi operator, said they had spotted able-bodied people drop the beggars very early in the morning.
He said the unscrupulous individuals collect that money, which he said is unfair to the givers and the beggars.
Embu West police commander Julius Meli said they are aware of the rising number of the beggars in Embu and that investigations have been launched into the matter.
"We are also concerned about the rising number of beggars in town. We are going to make arrests soon and deport those found to be here illegally," said Meli.