Rise in teen mothers jolts county to action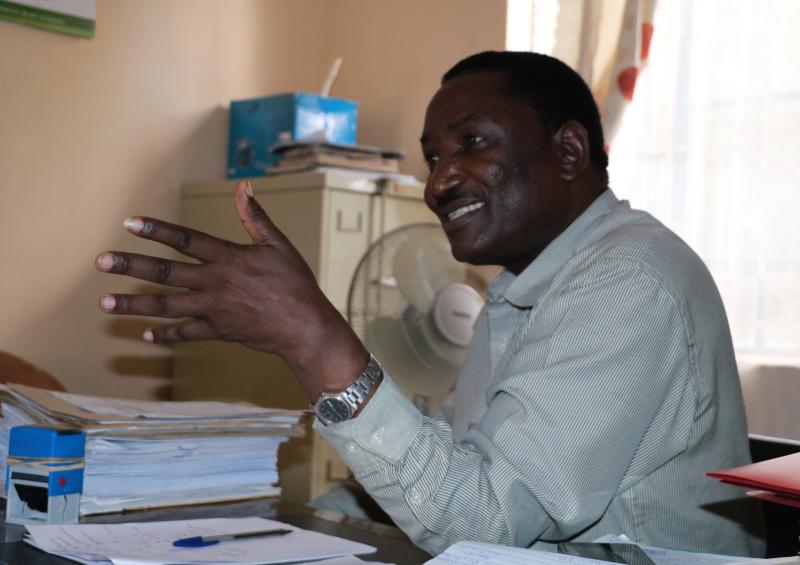 When a 16-year-old Agnes gave in to sexual overtures from her teacher, the thoughts of being lavished with gifts impaired her ability to think that she could fall pregnant.
She was still in primary school - young and naïve and to make matters worse, she was from a poor background.
"He would give me money to buy books and sanitary pads," she says shyly, as her seven-month-old baby-girl suckles.
The two year affair with her teacher who is in mid 40s ended when she got pregnant while in Class Eight. Agnes delivered shortly after sitting KCPE exams.
And just like that, Agnes became part of the increasing statistics of teenage mothers in Makueni and Kitui counties.
The suspect went into hiding after the matter was reported to authorities, but was later arrested, arraigned in court and interdicted. The matter is still pending at Wote Law Courts.
The girl has since joined Form One in a day school, leaving the baby under the care of her mother.
Challenge
Anna Nduku, from Itandi village in Makueni County says bringing up the baby without reliable income is a burden.
"She went back to school when the baby was only four months old. I am the one who has been taking her to the clinic.
Now that I am constantly with the child, I do not attend to casual jobs so providing food for the family and even the child is a challenge," says the mother of five.
The fact that her daughter is in a mixed school makes her worry that she might fall pregnant again. She wants Agnes to be put on contraceptives.
"I have been talking to her to start using contraceptives, she cannot risk having another unplanned child at this stage," she says.
Agnes says she is considering her mother's proposal.
"I think it is a good idea…yes I will go for it," she says. Unlike other students who leave the school at 5pm, Agnes has been allowed to leave at 4pm so as to breastfeed the baby.
The worrying numbers of school girls getting pregnant drove the county government's Department of Health Services to develop a five-year family planning strategic plan.
Dubbed Makueni County Family Planning Costed Strategic Plan, 2016-2020, it seeks to provide adolescent reproductive health services including contraceptives.
There were also plans to establish youth-friendly clinics for reproductive health services.
Three years down the line, number of teenage mothers are rising, leaving the policy makers and educationists with a lot of questions.
Data from Makueni's health department shows a sharp increase of school girls falling pregnant from 2016, where 4,604 cases were reported to 7,968 in 2018, representing a 73 per cent increase.
Makueni Sub-county is the worst affected with an increase of 96 per cent in teenage pregnancies from 2016 to 2018 followed closely by Mbooni (91 per cent), Kibwezi West (70 per cent) and Kibwezi East at 57 per cent.
The worrying trend in Kibwezi has forced the Director of Education Mishael Machora to form Kibwezi Anti-defilement Squad, a unit that brings together chiefs and their assistants, village elders, educationists and heads of security as well as the area Deputy County Commissioner.
They share information on teen pregnancies and suspected cases of defilement.
For the one year he has been in office, Mr Machora says several suspects have been arrested, some convicted while others face court cases. He is however, worried that the numbers are still on the rise.
Lack of information
"Every week, I receive at least three cases of teen pregnancies of girls aged between of 14 and 17. It is very alarming. We have however sensitised the people to apprehend anyone seen moving around with a school girl," he says.
Machora attributes teen pregnancies to high levels of poverty, illiteracy and lack of information.
Dr Patrick Musyoki, the chief officer in charge of Health Services acknowledges that cases of teen pregnancies have been on the rise but says there are plans to address the matter.
"This financial year (2018 -2019) we are planning to establish two youth-friendly clinics, one at Makueni County Referral Hospital and another at Makindu sub-county hospital," Dr Musyoki says.
Services offered in such centres will include HIV testing and counseling, management of sexually transmitted diseases, antenatal clinics for pregnant teens, use of various contraceptives and treatment of abortion cases for teens who might procure unsafe abortions.
Other such youth clinics will be established in all the 11 sub-county hospitals.
In the neighbouring Kitui County, Jane Kinya, the nursing officer in charge of Kyoani dispensary has started a youth group where people aged between 13 and 24 meet to discuss reproductive health matters.