Chaos erupts in Kitui as youth stage demo against Charity Ngilu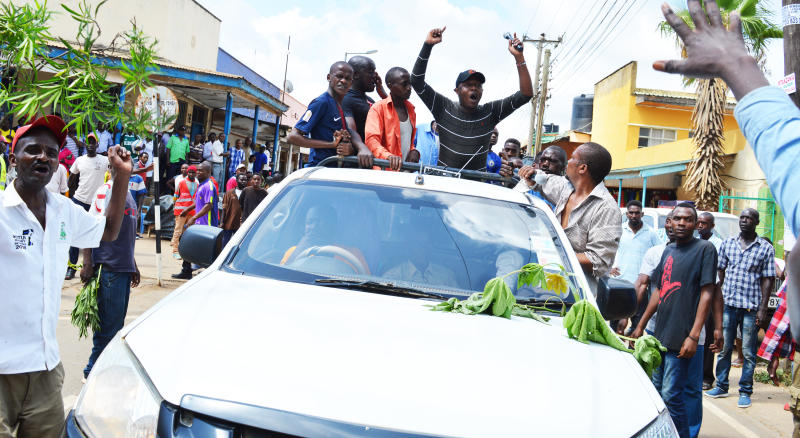 Chaos erupted in Kitui town on Friday after youth staged a demo against Governor Charity Ngilu's administration over claims of skewed award of tenders.
The youths, some riding on pickups bearing the banner of Kitui County Youth Movement, kicked off their peaceful demo at Kitui bus park before they spilled to the streets and made their way to the governor's office.
They were led by Moses Munyalo, the chairman of the Movement. However, an ugly confrontation ensued after the group met a rival gang wielding stones and crude weapons near Kitui AIC Township blocking them from accessing the governor's office to present a petition.
Anti-riot police led by Kitui Central OCPD Muthuri Mwongera were forced to fire live bullets in the air and lob tear gas canisters to disperse the youth.
Some small-scale traders were injured as scores scampered for safety in the ensuing melee.
"I have been hut by a stone on the head, we blame police for allowing hooligans to interfere with our peaceful protest which they had authorised. All we wanted is to address the governor on the ills dogging her administration" said Muema Ndundu.
Later, Munyalo addressed the Press before he was arrested and held at Kitui Police Station briefly.
"We are telling people that the governor has been besieged and held hostage by cartels bleeding the county. We want the governor to delink herself from this cartel that is out to enrich itself at the expense of youth and women," he said.
But the County Chief of Staff Crispus Ileli dismissed the demo as an attempt by Ngilu's detractors who were out to derail his development agenda.