Businessman found dead in his car after lethal injection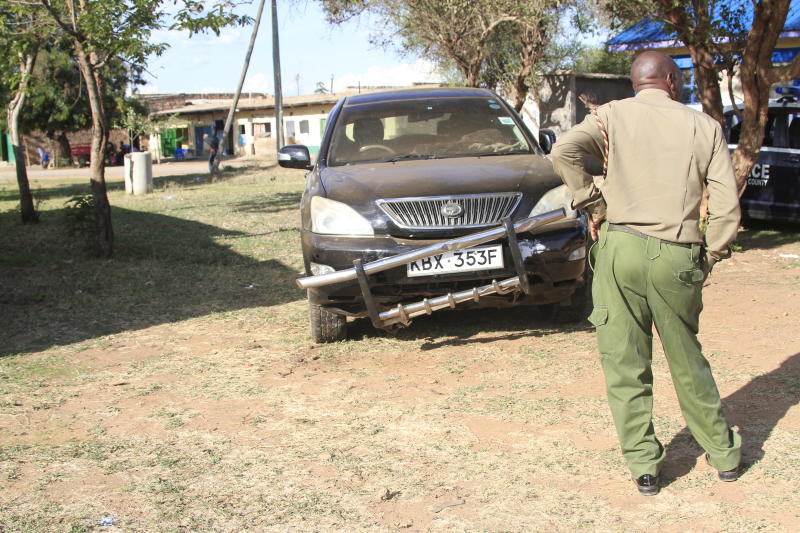 An Embu businessman was on Wednesday night found dead in his car near Matuu town.
He had been injected with a poisonous substance.
Peter Mwangangi, 53, who had a wide range of business interests, including building contracting, had earlier in the day visited his Lexx Bar and Butchery, which he had established three months ago at Kanyonyoo market.
"I have known Mwangangi for just three months since he came to set up a bar," said the owner of the building that housed Lexx Bar and Butchery.
Funeral arrangements
"He was a very good man, very jovial, very outgoing," the landlord said, evoking nods from seven other men seated at a small round table with him. They were making funeral arrangements for Mwangangi.
One of them showed this writer a photo of the body that was found in the backseat of his black Toyota Harrier, with his jeans lowered, revealing bloody white boxers and wounds on the stomach, where the police allege he was pierced with three needles.
The body was laid out on the backseat, with the hands tied to the driver's seat using a bandage.
Take a quick survey and help us improve our website!
Take a survey
"He came here at around 3.30pm on Wednesday and we had a drink. After a few minutes, he said a friend had called him and wanted his driver's licence so he could pass a police roadblock," a friend said.
He said Mwangangi did not say who he was going to meet, only that the friend was "a very close one".
Hours later, Mwangangi's body was found in his car, off a feeder road.
His wife, Luiser Nthambi, recalled her last moments with Mwangangi.
"He was a very wonderful father and husband. He liked people and got along with everyone. No one had a reason to hate him."
Earlier on Wednesday, Mwangangi had left their home in Embu to visit the bar in Kanyonyoo. He called his wife at around midday to brief her on business matters. According to her, that was the last time she heard from him.
Police at Masinga Police Post, where the case was registered, had yet to arrest any suspect. The motive for the murder remained unclear.
"What we know for sure is that the person who called him and led him to his death is someone he knows well, otherwise he would not have gone to meet him. We also think that he might have been murdered by more than one person," said Masinga Police station OCPD Francis Siror.
Police said they planned to analyse the car for fingerprints and look into Mwangangi's phone records.
According to Mr Siror, apart from the three syringes police believed were used to inject the poison, nothing else was found in the car. The postmortem is scheduled for Monday.