Stand-off as MCAs vote to remove Machakos DG as Finance executive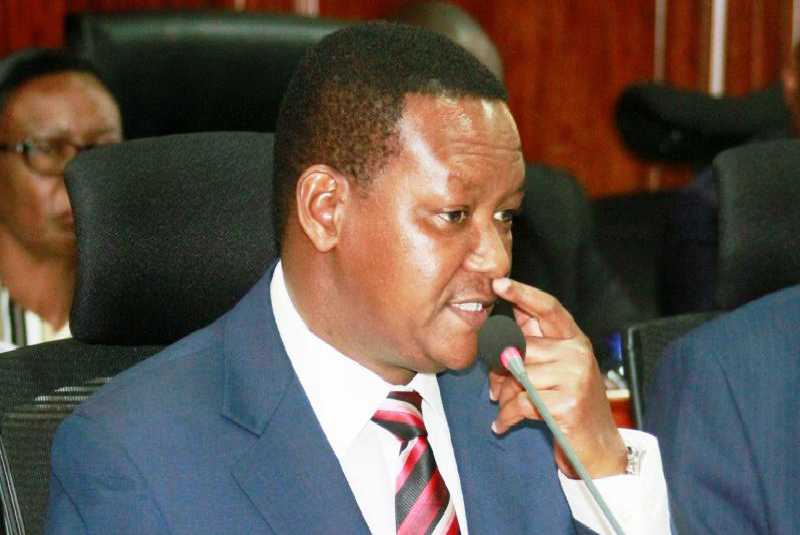 Machakos members of the county assembly (MCAs) have endorsed a report tabled by an ad hoc committee seeking to strip governor Alfred Mutua's deputy, Francis Maliti of Finance minister portfolio.
In a Motion tabled by Kangundo Central ward representative Moses Mitaa the MCAs also recommended that Maliti be investigated for possible commission of economic crimes for allegedly authorizing spending of funds beyond the county's budget.
Some 33 MCAs drawn mainly from Wiper party voted to impeach Maliti while 26 others walked out in protest.
Matungulu East MCA Cosmus Masesi who last week moved the motion to kick Maliti out of office claimed the deputy governor lacked the requisite academic qualifications to hold the Finance portfolio.
"Francis Maliti does not have knowledge in matters to do with Finance, Accounting or Economics and does not have experience in matters to do with Finance, Accounting or Economics. He is a hazard to the department of Finance and economic planning," Masesi said.
The DG was also faulted for allegedly failing to ensure the county's development funds were in the 2017/18 fiscal year were fully absorbed.
But Maliti has denied all the allegations leveled against him, and even criticized the manner in which the ward representatives initiated and carried out the motion to remove him.
Through his lawyers, the deputy governor has promised to challenge the outcome of the process in court unless certain concerns were first addressed.
In a letter dated November 13, 2018, and addressed to the clerk of the Machakos county assembly, the DG's legal team argues the proceedings for the removal of Maliti as a member of the County Executive Committee were 'quite misconceived and misplaced.'
"Our client is the deputy governor duly declared elected under Article 180 of the Constitution and he is a member of the county executive committee by virtue of his position under Article 79 (2) (a) and he cannot be removed in the manner intended," the letter drawn by Nyamu and Nyamu Advocates seen by The Standard reads in part.
Maliti has also contested the Constitution of the ad hoc committee which was picked to investigate allegations against him.
"We have noted that the committee was constituted of members who have expressed partiality and bias in the sense that neither of the members-who supported the motion both in the House and in its inception are qualified to sit in the ad hoc committee," the letter further reads.
On Tuesday, Mutua asked Maliti not to honor any summons by the county assembly, claiming the impeachment attempt was motivated by blackmail and vested political interests.
"Eng Maliti is going nowhere. I have asked him not to attend to such summons. He will continue to discharge his duties as the executive for Finance and ensure funds are well utilized," said Dr Mutua.