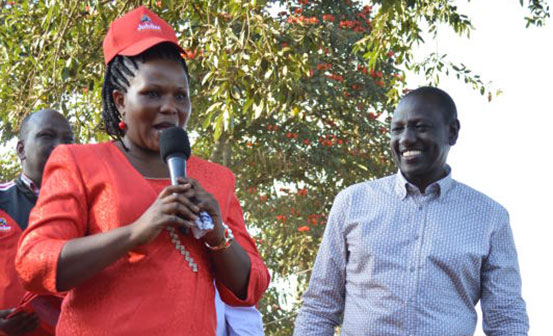 Deputy President William Ruto was in Meru Friday and he witnessed political re-alignments ahead of the August 8 polls.
Ruto, who has attracted the wrath of Meru Governor Peter Munya for allegedly spearheading a poaching spree targeting Party of National Unity (PNU), welcomed Woman Rep aspirant Kawira Mwangaza into the Jubilee Party.
Mwangaza defected from PNU, complicating the local political equation as lines had already been drawn, with Senator Kiraitu Murungi leading a group that wanted to sweep all elective seats in Meru County.
The group calling itself Kikali, an acronym of Kiraitu, Kajuju (Florence) and Linturi (Mithika), has been campaigning together, but with Mwangaza's entry, the political arena is likely to change.
It is not clear where incumbent Kajuju now stands as she has to fight for the JP ticket with Mwangaza.
Read More
During a ceremony attended by Kiraitu, Linturi and National Assembly Majority Leader Aden Duale, Ruto described Mwangaza as a close friend who he had known for a long time. "I am here because I have known her as a hustler. She gave me a lift in her car nearly 10 years ago," said the DP.
The leaders expressed confidence that the Jubilee government would be re-elected in the August 8 elections.
Other leaders who attended a prayer event at Kathurine market in Central Imenti were MPs Rahim Dawood (Imenti North) Kubai Kiringo (Imenti Central) and Joseph M'eruaki (Igembe North).
The MPs asked the Meru community to support Jubilee and vote for all its candidates from the County Assembly to the President.
They described the Opposition as strangers who were free to visit any part of the country to campaign. The MPs said they were confident Jubilee would triumph.
Duale asked the Meru community to continue supporting Jubilee. He told them not to allow to be misled by "lavish empty promises" by the Opposition, which he said had nothing to offer the Ameru.
"Ask those people what they did for you when they were in government," said Duale.
Kiraitu said the Meru community's support for Jubilee was unshaken and they will not be misled to support political parties that have "nothing new to offer Kenyans."
"We want to make it clear here that the people of Meru are firmly in Jubilee and nothing will stop us from supporting President Uhuru Kenyatta and Deputy President William Ruto," said Kiraitu.
Ruto thanked the Meru people for their support for Jubilee. He welcomed Mwangaza Kawira into the party, saying Jubilee was committed to embracing democracy to ensure Kenyans elect leaders of their choice without any interference.