Ukambani road to politics of deceit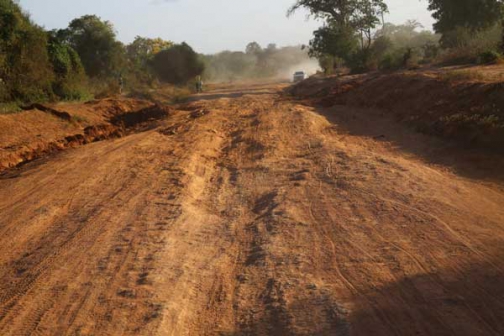 On June 11 last year, residents of dusty villages in Mutomo waited for President Uhuru Kenyatta with anticipation.
Their anxiety was understandable. Many have never seen a tarmacked road in their locality. On this day, they braved the scorching heat as they awaited the arrival of the Head of State to commission construction works on a dilapidated 327-kilometre road that has been at the centre of politics since the era of Uhuru's father, Mzee Jomo Kenyatta.
Signs things were looking up this time were all there — heavy earth moving equipment belonging to the Chinese Sino Hydro Corporation and construction workers in reflector jackets. A commemorative plaque stood covered, ready for unveiling.
Then, dismay. The President never showed up due to some unexplained hitch. The commissioning had been postponed. Residents were devastated.
The following day, State House Spokesperson Manoah Esipisu announced that the President would be back in Kitui County the following month when all paper work was expected to have been done.
Another five months were to elapse before the President finally landed for the commissioning on December 6, 2016. It was real.
He unveiled, to cheers, a marble commemorative plaque inscribed with the words: Construction of Kibwezi-Kitui-Kabati-Migwani road to bitumen standard was officially launched by H.E. Hon President Uhuru Kenyatta, CGH, and President of the Republic of Kenya and Commander in Chief of the Defence Forces on Thursday December 6, 2016.
Nightmare
Conspicuously absent from the event was Wiper leader Kalonzo Musyoka, who as Vice President had launched the construction of the same road five years earlier on April 5, 2011.
Then, Kalonzo announced in Kibwezi that the Chinese Government would fund the road at a cost of Sh50 billion. He has never explained why the project faltered after his launch.
But things went silent soon after the Presidential launch. Well over a month later, heavy machines that bedecked the ceremony under the azure Mutomo skies are not in sight. Workers are nowhere to be seen. Livestock have taken over the road to the discomfiture of motorists.
The road runs from Kibwezi through Kitui to Kandwia-Usueni road at the border with Tharaka-Nithi County. Travelling to Kibwezi from Kitui remains a nightmare that starts hardly two kilometres from downtown Kitui.
Some sections of the road, particularly around around Kiangu, Mosa and Kiatune, are so dilapidated that even hardened matatu drivers find it difficult to manouvre their way.
Locals have to part with up to Sh1,000 to travel from Kitui town to Kibwezi and vice versa, a distance of 150 kilometres. The costs here are relatively high because of the poor road. Travelling from Nairobi to Nakuru, for instance, costs Sh300. The two towns are also 150km apart.
Long distance bus companies operating between Mwingi, Kitui and Mombasa abandoned the dusty, rutty road long ago and prefer the long 114-kilometre detour through Machakos to the Kyumvi junction on the Nairobi-Mombasa highway to avoid heavy wear and tear.
"It is better to use a long route with more cost on fuel than have a ramshackle of a vehicle on a shorter but terribly poor road," says Abdulla Mohamed, a director of Tahmeed.
Matatus on the other hand, have no option but to endure the rough ride on sections resembling the surface of the moon to deliver their passengers to their destinations.
"We have an obligation to ferry our passengers to destinations on that road and other worse ones, but it is terribly taxing," says Kitavi Nzyuko, a driver with Kililimbi Safaris that ply Kitui, Mutomo and Ikutha.
"Many roads have been constructed since independence and we fail to understand why this particular one, which to Ukambani is so important, is avoided like a leper," says Musau Musyoki, a small scale farmer in Ikanga area. "Is it because of the fear that it will take away business between Mombasa and Central Kenya and beyond?" he wonders.
Former Planning and Development Permanent Secretary Titus Mbathi, who served in the Jomo Kenyatta and Moi eras, says the class B road has been a pet project of the Akamba people since independence.
National asset
"I was in the first delegation of Kamba leaders to founding President Jomo Kenyatta in the 1960s to plead for the upgrade and tarmacking of the road. He promised that the work would be done, but to no avail," laments Mr Mbathi.
A second delegation to President Moi was assured that work would start. "I doubt if there is another untarmacked B class road in the country today. I think it is neglect of a region. Ukambani was not given preference by past regimes," he says.
In a letter dated June 16, 2014 to former Transport and Infrastructure Cabinet Secretary Michael Kamau, Kitui Governor Julius Malombe said the road, if upgraded to bitumen standards, would play a key role in enhancing the economic potential of nine counties.
"The road will also provide relatively easy link to Tana River County, help boost tourism, mineral exploitation, and transportation of agricultural produce and link the entire region to the Coast," he wrote.
Dr Malombe described the road as a national asset running along a mineral belt that stretches from Taita Taveta to Meru through Makueni and Kitui counties.
Minerals in the belt, he said, include limestone, iron ore, marble, copper carbonate, coal and others.
Confronted on why projects are launched ahead of their time, Transport CS James Macharia called for patience and understanding.
"People need to understand that for EPC (Engineering, Procurement and Construction) projects, once you sign the project, the contract takes effect immediately and a launch can take place ahead of design of the project. For most of these projects, the launch preceded the design hence the impression you are talking about. Perhaps we need to educate our people on this," he said.