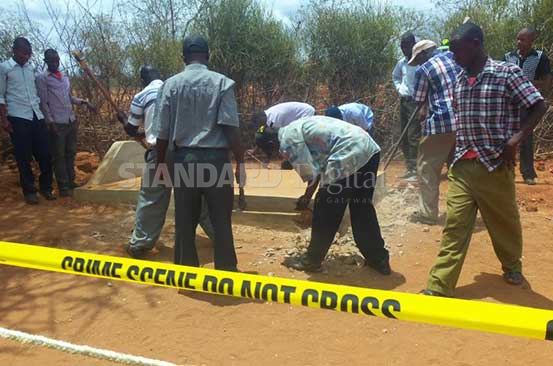 A family that has been searching for their daughter since the Al-Shabaab attack at Garissa University College in April now says a body exhumed last Saturday in Mwingi is that of their daughter.
Mr Issac Mutisya, father of Risper Kasyoka, who has been missing since the terror attack, said the family had positively identified the body which is being preserved at Mwingi Level Four Hospital mortuary.
Mr Mutisya from Maluma village in Kitui County said after the body was exhumed at Itiva Nzou village, Kyuso sub-county and taken to the mortuary, they were given an opportunity to view it.
Mutisya said they identified it from the physical features and confirmed it was that of his last born daughter.
"We positively confirmed it is indeed her. I identified her by the gap on her upper front teeth and other body features. We have no doubt it is her," Mutisya, a secondary school teacher, said in the company of his wife and son.
Read More
He said the investigators took a tooth and nail clippings which will be subjected to DNA tests to confirm if indeed the body is Risper's.
Mutisya, who has been agonising over the whereabouts of his daughter for the last six months, said he had been granted permission to be visiting the mortuary to see how the body was being preserved.
Last Saturday, Itiva Nzou villagers witnessed an emotional scene when the body, initially presumed to be of another terror victim, Philomena Kasyoka, was exhumed.
Philomena's father Peter Munyoki said they buried the body in April thinking it was their daughter's, only to be told a month ago that they had interred the wrong corpse.
Police said the confusion occurred at Chiromo mortuary after the two girls' fingerprints were mixed up because they shared the same name.
Following Mutisya's persistent search for his daughter, it was confirmed through DNA that a body that had been lying unclaimed at the mortuary was Philomena's.
After the exhumation, Philomena's family buried her corpse.