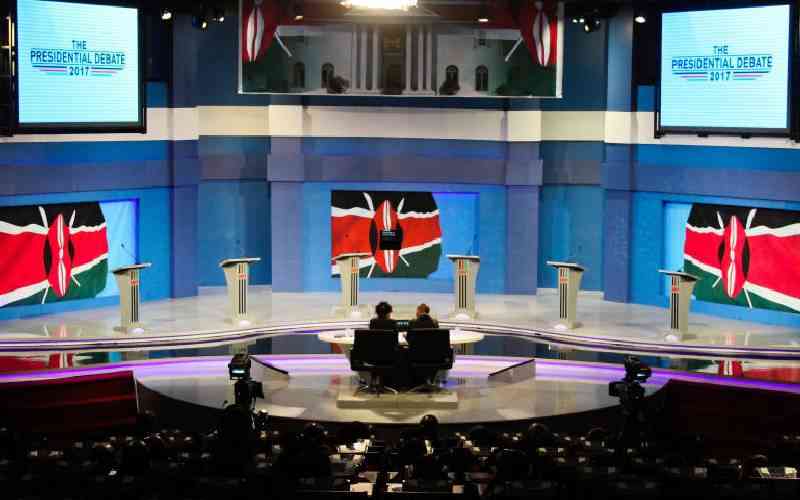 Kenya's first deputy presidential debate is scheduled for Tuesday July 19th. While this is good, it is also bad and it can be ugly.
It is good because there is nothing better than a two-hour interview, broadcast live for Kenyans to judge the political job seekers.
Two hours is a long time to stand by oneself, without political hype men and handlers, and without bells and whistles of the campaign rallies.
It is also good because we get to hear from the running mates, an integral part of the presidential campaign and the eventual presidency. They are given opportunity to prove they are worth the 'second-in-command' title.
The bad, is low voter reach. The biggest voting population; that majority that goes to the polling station to cast their ballots is not likely to sit and watch the debate. But let us assume they will, and if they don't, they will catch pertinent sound bites on radio, TV and social media.
With just three weeks to the elections, the most the debate will do is convince the convinced and persuade the persuaded.
Finally, it is bad because while two hours is a long time, it is not long enough to address all important issues a presidential debate should cover.
For sufficiency, debates should be thematically serialised, with three to four separate debates between the contenders in the course of the campaign cycle.
Now, to the ugly. In our short history of presidential debates, we know these events have potential to either be democratically productive or a downright circus. The probability depends on organisers and moderators.
It depends on whether they will be determined to gain democratic utility from the debate by disallowing sideshows, distractions and antics.
In 2013, Mwalimu Abduba Dida rose to national fame for being a wisecracking humourist. In 2017, Miguna gained entertainment mileage during the governor's debate on account of colourful language.
Unfortunately for both, the tickled audience did not translate their laughter into votes.
The debates were rendered a performance, and not a politically functional process. While a little amusement is good, especially at the height of political contest, shallow tomfoolery should not overshadow the exercise.
Even uglier would be to use the platform either as a moderator or candidate to amplify divisive and inflammatory narratives.
Speaking of moderators, a most ugly eventuality would be to demonstrate open bias or to advance one's journalistic career through theatrics. In these instances, there is no point of taking us through a charade.
That said, the upcoming meet between Martha Karua and Rigathi Gachagua will be one of the most interesting political debates.
There have never been two opponents more unalike like these two politicians are, with their dissimilarity beginning at the start of their political careers.
On one hand, Karua rose up the ranks of opposition politics, fighting against the then oppressive regime.
On the other hand, Gachagua rose up the ranks of the provincial administration, which was at the centre of the oppression of the same government Karua was up against.
In this sense, the two candidates, Karua and Gachagua, have spent their political lifetimes debating against each other in different arenas. They have never belonged on the same side of any metaphorical debate setting, and probably they never will.
Lastly, the Tuesday debate as it stands is currently a probability. One of the candidates, perhaps dreading the day, is threatening to bolt. And that candidate is not Martha Karua.
The writer is a political analyst and PhD student in political economy. Twitter: @daisymaina7