World's tallest teenager reaches record-breaking 7ft 8ins - and he's still growing
CRAZY WORLD
By Mirror | September 22nd 2016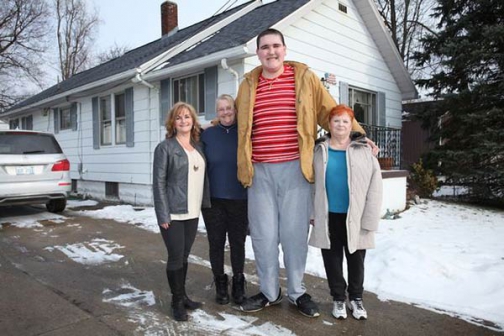 The teenager has been diagnosed with a genetic disorder and his mother admits she is unsure whether he will ever stop growing.
The world's tallest teenager has reached a record-breaking height of 7ft 8ins - and he's still continuing to grow.
Broc Brown, who was officially the world's tallest teenager before becoming too old for the 18-and-below classification, is growing at the rate of six inches a year.
If he maintains that rate, the 19-year-old from Michigan could easily surpass the current world's tallest man, Sultan Kosen, who stands at 8ft 2ins.
His mother, Darci said: "I'd say Broc was around 5ft 2ins when he was in kindergarten.
"When he got into middle school he was around 6ft tall and by high school he was 7ft tall - he could easily grow six inches in a year.
"It's a genetic disorder and there's nothing that can stop him from growing - I don't know if he will ever stop."
He was diagnosed with Sotos Syndrome, known as cerebral gigantism, when he was just five-years-old and his mother was told that he would not outlive his teenage years.
The condition effects one in every 15,000 people but doctors are now confident that Broc will have a normal life span despite his health problems .
Along with his gigantism Broc also suffers from learning difficulties, strain on his heart, curvature of the spine and narrowing of the spinal cord.
He was also born with one kidney so is unable to take painkillers despite suffering constantly with his back.
Broc said: "It kind of feels like a big tennis racket has gone through my back.
"I do stuff to stop it hurting and it makes me feel like there's a needle gone through it - it's hard to deal with.
"I just wish the doctors could do something to help my pain."
Broc and his mother Darci recently travelled 1,000 miles from their home in Michigan to the Arkansas Children's Centre to meet with Sotos expert Dr Bradley Schaefer.
While he could not help with Broc's chronic pain he did have some good news for the family.
He said: "Broc is easily the tallest man I have ever seen.
"Unfortunately he will always have to deal with some form of pain but I believe that he will now have a regular life span."
Broc was delighted at the news, he said: "It's the best thing I could have heard, I'm so happy that I will live for a long time."
But despite his positive news Broc is still aware of how hard his new, long life will be.
Darci said: "He has ADHD and intermittent explosive disorder.
"When he gets mad, he's mad. It wouldn't take him two seconds to pop a hole in the wall - it could be very dangerous if he wasn't on medication and able to be calmed.
"But overall he is a big softie, his heart is as big as his body."
And his health problems haven't just affected him.
"When you have a five-year-old who has hurt themselves and they come running at you, you pick them up," added Darci.
"I would carry him around when he was half the size of me so I have a lot of back problems."
The financial implications of being one of the world's tallest men have been hard for the family to bear.
Broc has to have all of his clothes and shoes specially made and the socks to cover his huge size 28 feet cost $18 (£14) a pair.
He also has a specially made 8ft bed and a specialist chair that cost $1,000 (£750).
Darci added: "We have had a couple of benefits for Broc where the community got together and helped us out.
"He made around $10,000 (£7,500) and we used it to buy socks, shoes and clothes.
"It didn't last long, we had a lot of outfits but within a year he was out of them and it was time to do it all again."
But despite their problems Broc and his mum are looking forward to their long future together.
Broc said: "I hopefully want to work for a sporting goods store so something like that, a cashier or something.
"I just want to have my own job."
Darci added: "I don't ever want to push him in to doing something he doesn't want to do.
"I just hope he has a good life and is happy with everything he ever does."