Shocking moment as wife dives into car window to catch husband making love to another woman
CRAZY WORLD
By Mirror | January 8th 2016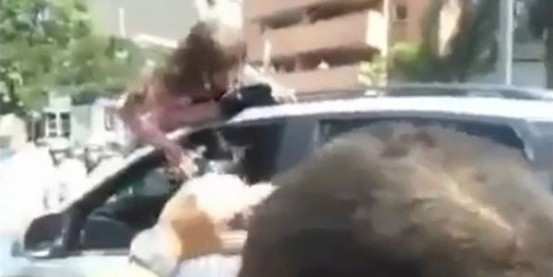 They say hell hath no fury like a woman scorned and that description could not be more accurate in this footage.
Check out what happened when this woman allegedly caught her man fraternising with another lady.
The furious woman was filmed lying face down on the windscreen of the car and found herself surrounded by curious spectators.
After a few second the woman stands up and then suddenly jumps into the open window on the driver's side to the thunderous cheers and applause of those around.
The traffic-stopping scene took place on a busy main road in the western Colombian city of Medellin.
Amused bystanders filmed the scene on their camera phones as the livid woman sits on the man thought to be her husband apparently trying to yank off his seat belt and pull him out the car.
When this fails the woman seems to pause for a moment and catch her breath before launching herself over her the man in an attempt to get her hands on the other woman, again to a chorus of encouragement from the watching crowd.
The dramatic images were shared just after a similar video was uploaded onto social media which showed an angry wife standing in front of a car that her husband was in with another woman.
The woman stops the traffic for almost ten minutes as she bangs on the bonnet and screams at her husband to "get the f**king bitch out of the car", until police officers arrived to escort her away.