Three men who plan to marry each other and have kids by their sisters
CRAZY WORLD
By Mirror | October 16th 2015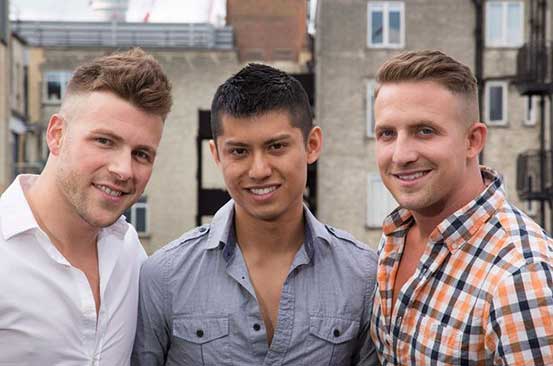 A 'throuple' (relationship involving 3 people) of men are planning to start a family together - with the help of their sisters.
Adam Grant, Sebastian Tran and Shayne Curran are part of a polyamorous three-way relationship.
The handsome trio all live together in Nova Scotia in Canada, and are planning to complete their unconventional family with the joy of children
The threesome who all work in the medical profession, hope to conceive three children together with the help of Shayne's sister as a surrogate - whilst Seb's sister will donate her eggs.
Sebastian, 29, said: "We definitely see kids in our future. We would love to have three children altogether of our own genetics if possible and we have a plan on how we're going to make that happen.
"We have really supportive family and friends around us who want to help us conceive.
"Shayne has two sisters who have offered to carry our children for us and my sister will hopefully donate her eggs too."
Adam and Shayne met in 2009 and the pair got married two and a half years later.
After a year of wedded life, they met Sebastian in a nightclub in September 2012 and immediately hit it off.
And last year, Adam and Shayne got divorced so that Seb could be properly included in their arrangement.
Medical Administration student, Shayne, 29, said: "We're the happiest we've ever been - all our dynamics and personalities work so well in a relationship.
"The three of us bring out the best in each other.
Nursing student, Adam, 27, added: "We didn't want Sebastian to be excluded or feel like the third wheel in our relationship. So Shayne and I decided to get a divorce so that we could make a renewed commitment between the three of us instead.
"We want to make sure that we're all equally bound and obligated to each other in marriage."
Adam and Shayne first met in a nightclub over six years ago and married in 2011.
And a year into their marriage, they decided to become more open-minded with their relationship.
Shayne said: "Adam and I wanted to have a little more fun so we decided to experiment with multiple partners.
"We never intended it to be anything serious, we certainly never planning on taking on a full-time third partner by any means. It was just bit of sexual experimentation.
"So one night, Shayne and I were in a nightclub with some friends. Sebastian caught our eye.
"He was dancing to 'Gangnam Style', which we found hilarious and we thought he was really cute."
Adam said: "We started chatting to Sebastian and the conversation just came really easily. After leaving the nightclub, we went home with Sebastian and spent the whole evening with him.
"It was such an amazing night. Sebastian was different to anyone we had ever met. There was something about him that Shayne and I couldn't explain, but it was like meeting our life partner for the second time."
Sebastian had only come out as gay a year before meeting Adam and Shayne and hadn't been in a long-term relationship before.
Sebastian, a doctor in the military, said: "I came out as gay pretty late in life. When I met Adam and Shayne, I was still in the phase of just seeing what everything was about.
"I hadn't been in a relationship yet before either so I didn't know what to expect. I just knew that I really liked Adam and Shayne and they made me happy.
"At the time, I didn't think I was ready to commit to anyone so it was a surprise when I fell for both Adam and Shayne. I didn't think I wanted one boyfriend let alone two.
"But from the moment we met, we started spending all our time together. We were inseparable."
But while Shayne and Adam were smitten with Sebastian, initially they had concerns about opening up their relationship to him.
Shayne said: "Before I met Sebastian, Adam and I had never been in a serious three-way relationship before so it was new territory for us too.
"Initially, we did struggle with our feelings for Sebastian and we had some concerns about how our relationship would all work.
"But after speaking to Adam, we both realised that we both felt the same way about him.
"If anything, Sebastian only enhanced our relationship".
After two months of dating the trio moved in with Sebastian.
Sebastian said: "It just seemed like the natural path for us, we just realised what we were. Together as a threesome, we were all complete.
"We never really had 'the conversation' of let's all be together as a couple. It just sort of happened."
The trio have been living together for over three years now and are happier than ever.
And they hope to marry in the not too distant future.
Adam said: "Although being married to more than one person is not yet legal, we have spoken lawyers who can draw up paperwork to make sure we are equally bound and obligated to each other in the eyes of the law."
Sebastian added: "We haven't got a date for our wedding yet but we want it to be a low-key affair - a nice party with all our closest friends and family there."
"We want to have kids one day so the three of us getting married is very important. We want to ensure our children are looked after whatever happens to us and our union is backed up legally."
Shayne said: "I have two sisters who have both offered to carry our children for us as surrogates and are willing to donate their eggs as well.
"My sisters actually argue over which one them will carry our baby first - I feel very lucky."
"Meanwhile Sebastian's sister will probably donate her eggs too so we can keep it in the family.
"We want to mix our genes enough so that our kids are as genetically close to us as possible.
"But, we are open to adoption too. Children are a huge part of our future plans."
The threesome insist their relationship is like any normal couple's - having dinner with one another, looking after their two dogs Tito and Tux, and sharing a bed together.
Shayne said: "We all sleep in a king size bed together - it's necessary when there's three people in a relationship."
The trio hope to show that polyamory is a perfectly acceptable choice of life and love.
Adam said: "We just want to say that love is love. It should be multiplied not divided. It shouldn't matter if you're in a three-way or a four-way relationship."