18 cattle killed and over 100 injured in night raid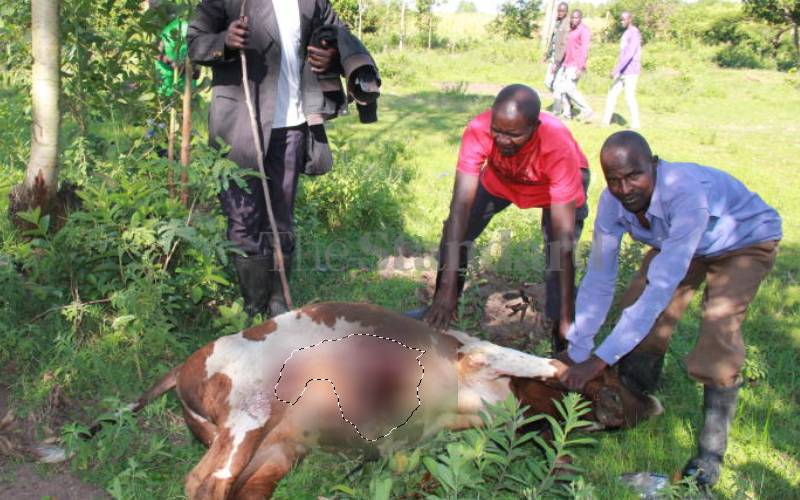 Police in Homa-Bay are trying to unravel the mystery behind the killing of cattle in the past week.
So far, the marauding gang has raided Ndhiwa and Mbita, killing more than 35 cows, and injuring dozens.
In Ndhiwa sub-County, 18 livestock were killed and at least 100 seriously harmed in some 10 villages yesterday.
The animals' bellies had been cut, leaving their intestines protruding.
Livestock rearing is a source of livelihood for a lot of the families affected in Saturday night crime.
Ndhiwa sub-County police commander Paul Rioba said no livestock or property was stolen.
"The criminals' motive is not known. We are investigating who these people are, and I can assure you that we will arrest and have them charged in court," he said, adding that police had intensified patrols.
Valentine Ouko' two cows were killed and six others left with serious injuries. Rodah Ouru, a widow, said she had been relying on her only two cows to pay school fees for her children. They were killed in the incident. "It is sad for some to come and kill our cattle in such a manner," she said.
At Kochieng' village, Owino Owino, a resident, expressed fear that the gang might soon start attacking people. "People's lives are also in danger because we don't know the motive of these attackers," said Owino.
The farmers lamented over the unprecedented losses the attacks had caused them.
"Cows are an important source of living in this area. Anybody who kills them causes serious economic drawback," said Mr Owino.
South Kanyamwa chief Silvester Were urged the affected farmers not to feed on the carcasses. "We don't know whether they have been poisoned," he said.
North East Kanyamwa acting chief Jane Atieno told residents to work closely with local security agencies to help with investigations.
"I appeal to anybody with information regarding the incident to report to the police," Atieno said.
Officers from the Directorate of Criminal Investigations are reportedly on the matter.
The incident comes less than a week after a similar one in the neighbouring Mbita sub-County, where 31 cows were killed and 58 others injured.
More than 12 farmers from Kitare, Kamolo, Kamsama, Waondo and Oseno villages in the sub-county were affected.
George Nyariga, a resident of Kamolo village, described the incident as an obstacle to his livelihood. "I have been depending on these cows for ploughing and milk production," he said.
Kanyanja Assistant Chief Moses Sirawa said the motive of the assailants was unknown. Nothing was stolen in the Mbita case.
Homa Bay County Commissioner Moses Lilan said a public baraza would be called to address the issue, adding that the authorities were following crucial leads.
"We are going to hold a public baraza with residents concerning this incident. We must handle it with due seriousness," Lilan said on Wednesday.