Milimo case: Two missing boys were strangled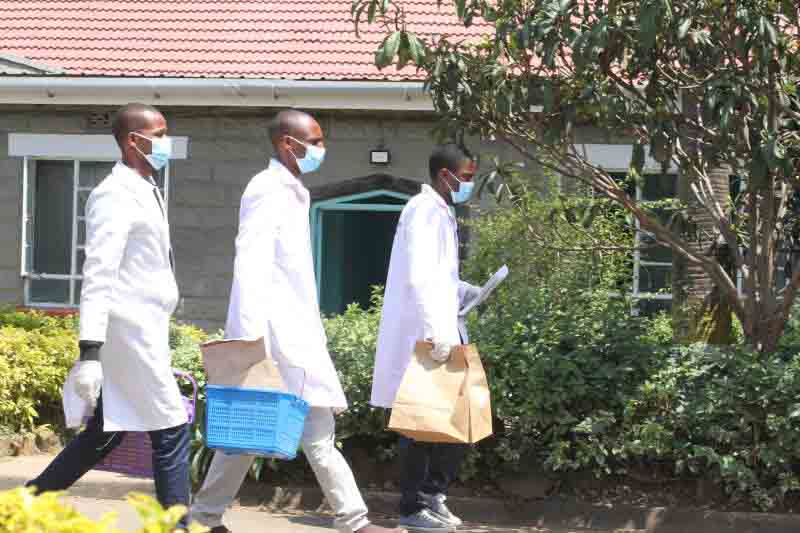 Two of the boys whose bodies were found after a man claimed he was behind their deaths were strangled while the other succumbed to head injuries, an autopsy has established.
Twelve-year-old Brian Omondi and Junior Mutuku Musyoki, 12, died as a result of strangulation while Charles Were Opindo, aged 13, succumbed to head injury trauma, Chief Government Pathologist Johansen Oduor said yesterday after conducting the postmortem examination.
The cause of death of the fourth boy was not determined because his body had been reduced to skeletons, Oduor said. The bones were found on Monday in a manhole at Pumwani after Masten Milimo Wanjala, the self-confessed killer, took detectives there.
Milimo claims he killed 12 teenagers and dumped the bodies in Nairobi, Machakos and Bungoma counties.
While the postmortem examination was taking place, another man turned up at City Mortuary claiming his daughter had been missing since February.
Hassan Suleiman said he had come to the morgue hoping his missing daughter might be among the bodies. "I have been turned away after they (pathologists) told me the four bodies were male," said a distraught Suleiman.
He has visited most children homes and police stations in Nairobi in search of his eight-year-old Halima Hassan, who went missing on February 11, 2021 from their Kitui village home in Majengo slums. The man, a trolley puller in Nairobi, said when his daughter disappeared, he reported the matter at Shauri Moyo Police Station where it was recorded under OB 21/11/2/2021.
It was after Milimo, 25, was arrested that Suleiman got concerned that the man could be behind the disappearance of his daughter.
He claimed Milimo had developed a close relationship with his 12-year-old son. "The man used to come to my house; I remember one day asking my boy why he was relating with a man much older than him," claimed Suleiman.
In retrospect, Suleiman thinks Milimo could have been targeting his son instead of the daughter. "Halima is my favourite child; I wish I knew where I can find her," he said.
Omondi's relatives were unable to identify his body because it had decomposed, forcing pathologists to take DNA samples from the mother, Grace Adhiambo. A similar exercise was conducted on Felister Wanyua, the mother of Mutuku and Were's mother, Grace Mueni.
"We also conducted swab tests on the three bodies to establish whether they were sexually molested," Dr Oduor said.
Family members at the morgue recounted the last moments with their murdered relatives and long search for them.
"I didn't know when I met my son at the doorsteps while returning from the shop that that was the last time I was seeing him alive," said Tony Opindo Walla, Were's father.
He recounted how the long search ended with a call from police asking him to go to Shauri Moyo Police Station where he found Milimo, a day after he had sent Sh1,000 on Mpesa to the suspect.
A few days earlier, Opindo had sent Sh2,500 to Milimo pleading with him not to kill his son. The suspect had demanded Sh50,000 before reducing the ransom to Sh30,000, which he insisted must be paid before Were was released, according to Opindo.
"He kept calling me during odd hours at night, asking me to act quickly otherwise I would never get my son because he planned to travel to Tanzania," recalled Opindo. His son disappeared from their Kitui village home in Majengo slums on June 30, 2021.
Were's body alongside that of Mutuku were recovered in Gitaruru in Kabete. The other body suspected to be Omondi's was also recovered from the same area a few days later after Milimo led detectives there.
Omondi's distressed mother described her son as a cheerful football fan who never missed an opportunity to watch local games in Shauri Moyo, where the family lives.
"Unfortunately we have been unable to positively identify him because the body is in a bad state. I still think his body is among the four we have viewed," said Adhiambo. The Grade Four pupil went missing on June 10, 2021.
Mutuku's relatives appealed for financial help to bury him. "The situation has worsened following this murder and as a family, we are appealing to well wishers to come to our rescue," pleaded Mutuku's aunt Jacinta Nduku.
Detectives successfully convinced the court to give them more days to hold Milimo as the search for more bodies continues.