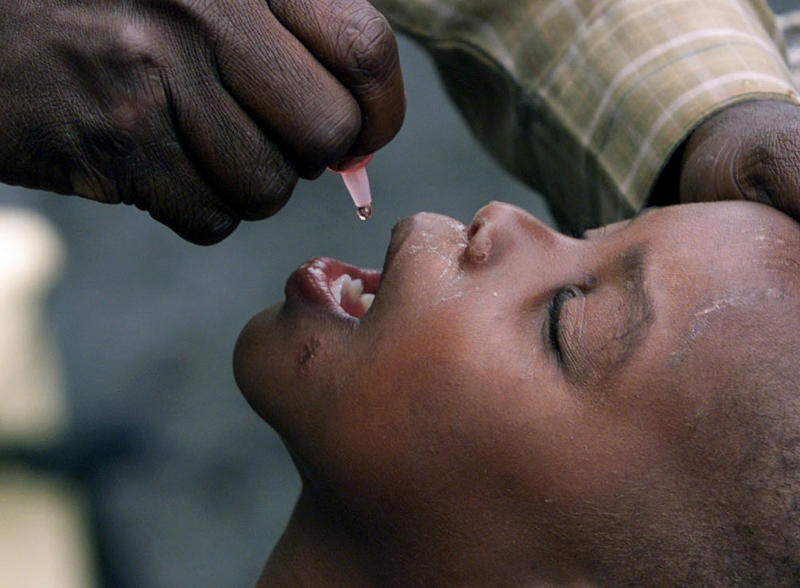 The Ministry of Health is aiming to vaccinate 3.4 million children in the upcoming emergency polio vaccination.
Phase one is scheduled for May 22 to May 26 after a risk assessment identified 13 counties as being at high risk.
The counties are Mandera, Isiolo, Wajir, Garissa, Lamu, Tana River, Kilifi, Mombasa, Kitui, Machakos, Kajiado, Kiambu and Nairobi.
In February this year, six polio cases were confirmed from samples picked from sewage material in Garissa and Mombasa counties. The polio virus was also found in three children who entered Kenya from Somalia, increasing risk of spreading due to cross border migration.
Head of vaccination and immunisation programme at the Ministry of Health Collins Tabu said the 13 counties were identified after an in-depth examination.
"This was done through continuously monitoring our risk status by reaching our children with the four doses of oral polio vaccines and the one dose of injectable ones that is given alongside the oral vaccine," said Dr Tabu.
He said that the counties are examined not to miss cases of paralysis in children "then map the population movement around these counties and determine which ones are at more risk."
Is Kenya over vaccinating? Well, Prof Fred Were, a paediatrician, thinks not considering when the elite vaccinate their children in clinics, the same might not be the case with the overall population hence the need to vaccinate again. "In any case, getting polio when you have been vaccinated is very unlikely."
While at least over 80 per cent of children in Kenya have been vaccinated, about 300,000 children are not. And though the Africa region was declared polio free in August last year, polio outbreaks are still reported in 21 countries, including Kenya, whose success is undermined by neighbours like Somalia where polio outbreaks have been reported.
Health CS Mutahi Kagwe reckons, "The porous borders have witnessed high population movements, especially of immigrants further increasing the risk of spread of the disease within our borders."
Kagwe was concerned that there are a number of hesitant groups in certain parts, including Kitui County.
"Vaccination is a right to our children and not a privilege and that the government will use necessary laws, including the Public Health Act, to ensure all children below five years receive the polio vaccine."
Since the vaccination will be taking place during the pandemic, Kagwe urged the public and vaccination teams to adhere to Covid-19 safety measures, including reducing physical contact and wearing face masks during the drive.
Contrary to routine, parents will be the ones opening their children's mouths to get the doses.