Covid-19: No parent will be allowed at the NYS pass out parade-Sakwa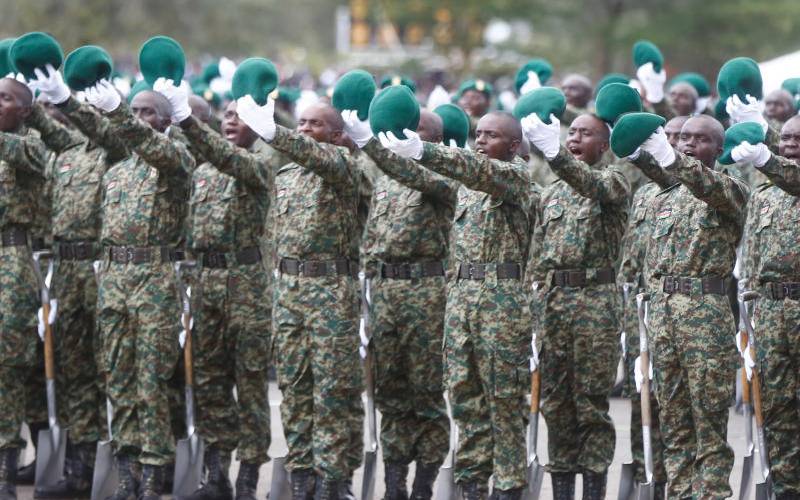 No parent, guardian or relative will be allowed to access the forthcoming National Youth Service pass out parade, Director-General Matilda Sakwa has said.
Sakwa has told The Standard in an online interview the move is in line with the Ministry of Health Covid-19. containment measures.
Sakwa said the 7,000 recruits who have undergone a series of Paramilitary training will be graduating on April 24, 2021, at the Gilgil headquarters.
"Due to the current covid-19 situation, no parent or relative will attend the ceremony. As a matter of fact, we have invited very few guests who will witness the pass out," she said.
This will be the first time the pass out is held in the absence of relatives to the recruits.
Sakwa said last year they recruited about 8,000 youth to join the service.
She said out of the number, some recruits got jobs and were discharged on their own volition, some were picked by Police and KDF who went to try their luck, and some just quit.
Sakwa said about 20 recruits were dismissed due to indiscipline cases leaving them with about 7,400 who will graduate on the said date.
Upon graduation, the recruits will not be allowed to go back home, they will instead be deployed to our 22 units where they will continue to undergo training on various fields aligned to the government's big4 agenda," she said.
She said some will play a role in the ongoing rehabilitation of railway lines, others will be deployed to man some of the key government installations while a good number will undergo training at the Kenya Medical Training College amid efforts to boost efforts to combat the coronavirus.
"We have looked at all their grades and each one of them will be taken through a course that is aligned to what they scored," she said.
While maintaining that the service is on the right trajectory towards taming corruption, Sakwa said they have formulated a Council that oversees all of its activities and programs.
The Council, she said developed good strategic plans that currently guide the institution through its programs.
"Through these reforms, the council has four committees including the audit and risk management committee which has played a key role in auditing our accounts," she said.
Sakwa said they have decentralised all monies to the 22 units and thus auditing of accounts has been made easy.
"We run our activities in line with what the council approves. We have developed framework contracts and obtained the necessary data for our suppliers," she said.
Sakwa said out of the number that is graduating, there some 47 persons living with disabilities who had successfully completed the training.
She said they include those with albinism, dwarf and deaf.
"This is the first time to have persons with disability in our institution. We got an overwhelming response but we cannot admit everyone, we are looking at ways we can bring more on board," she said.
Sakwa said since the service is a disciplined and uniformed institution with vigorous activities, they cannot admit those who are blind for now.
Cybercrime, Covid-19 and other disaster management, ICT related and Public Relations are among the topics the cohort has covered.